25.05.2023
Why do you need local acquiring?
Modern buyers are increasingly paying for purchases using plastic cards and alternative payments methods such as e-wallets, so sellers face an important task: to provide customers with the possibility of cashless payments. Most businesses know that if you do not have a contract with acquirer, you automatically lose to competitors. So, what is acquiring?
Acquiring is a system that allows the seller to accept debit and credit bank cards, as well as other payment methods as payment for goods and services. An acquirer is a bank or financial institution that creates and maintains the merchant's bank account. It connects the merchant with the issuing bank, which is the financial institution that issues credit cards to customers. When the customer makes a payment, the merchant's bank either authorizes or rejects the transaction based on the data received from the issuing bank.
Global credit card processing currently makes up more than half of all e-commerce sales. Merchants can use global acquiring and several local acquiring providers in the countries where they have a large client base. What sets the local card acquiring apart from the global (international) acquiring is that although international acquiring allows you to cover all territories at once, it does not give the opportunity to save on cross-border fees, which service providers charge when the transaction occurs between two countries (the customer's and merchant's).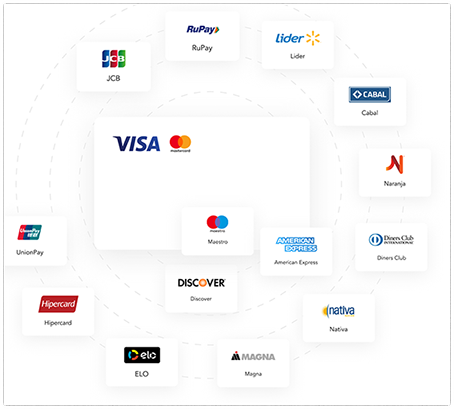 Moreover, local card acquirers are better adapted to local market conditions and regulations and have access to more client information. They usually have more competitive rates and customers are more likely to make the purchase. By adding local cards acquiring, you can accept card payments from your customers in their local currency though a local bank network and get higher success rate.
Local acquiring can be of interest to businesses who work in one of these business segments: sellers of digital goods, video games and digital marketplaces, freelancers, web studios, IT teams, professional services, traveling, e-commerce, gambling/iGaming, Forex and binary options, dating websites, SMM, digital marketing & likes and infobusiness/trainings/webinars.
There are many other advantages to accept payments for online stores, websites, mobile applications and services in local currency. If the merchant has a sufficiently large traffic in a particular country, it is much more profitable to organize local acquiring with a payment system, such as PayOp, because it provides the following benefits:
a quick go-to-market strategy and commercial launch in any market;
successful transactions: increased cards acceptance and minimal card declines;
a conversion with local acquiring for card processing in local country is usually higher than that of any international acquiring (throughput is much higher when the country of the bank corresponds to the country that issued the card);
ease of use and no currency conversion loss for the buyer, which significantly increases the loyalty of the store's customers.
PayOp is a payment aggregator that works in over 170 countries located in Asia Pacific, North and Latin America, EEA, Russia and CIS. Looking at its history, PayOp began to enable businesses to accept payments on the websites back in 2016 and now offers Visa, Mastercard, international, local and alternative payment method options. PayOp profile shows that it provides local cards acquiring in Russia, Brazil, Mexico, India, Turkey, Indonesia, Morocco, Argentina, Chile, Uruguay, Peru, Belgium and Ukraine.
If you want to work effectively in local markets around the world, choose PayOp with its 300+ payment methods, including local and alternative methods (e-wallets, direct debits, cash payments, etc.). You can visit the PayOp official website https://payop.com to learn more about local acquiring and add this powerful and unique feature to your payment options. Fast merchant verification makes it easy to start working with PayOp and taking advantage of all the benefits it has to offer.