22.12.2022
Top 25 Payment Processing Companies for 2022
If you are an online business owner, choosing a payment intermediary is one of the most critical decisions. To provide your customer with the option to pay by credit, debit card, or alternative methods, every business owner needs a payment processor. This organization acts as an intermediary, providing the payment infrastructure for the smooth processing of funds and their subsequent withdrawal to a bank account. Below we have compiled a list of the most popular payment processors in the world, among which everyone will find a suitable solution.
Top payment processors for business in 2022
1. PayOp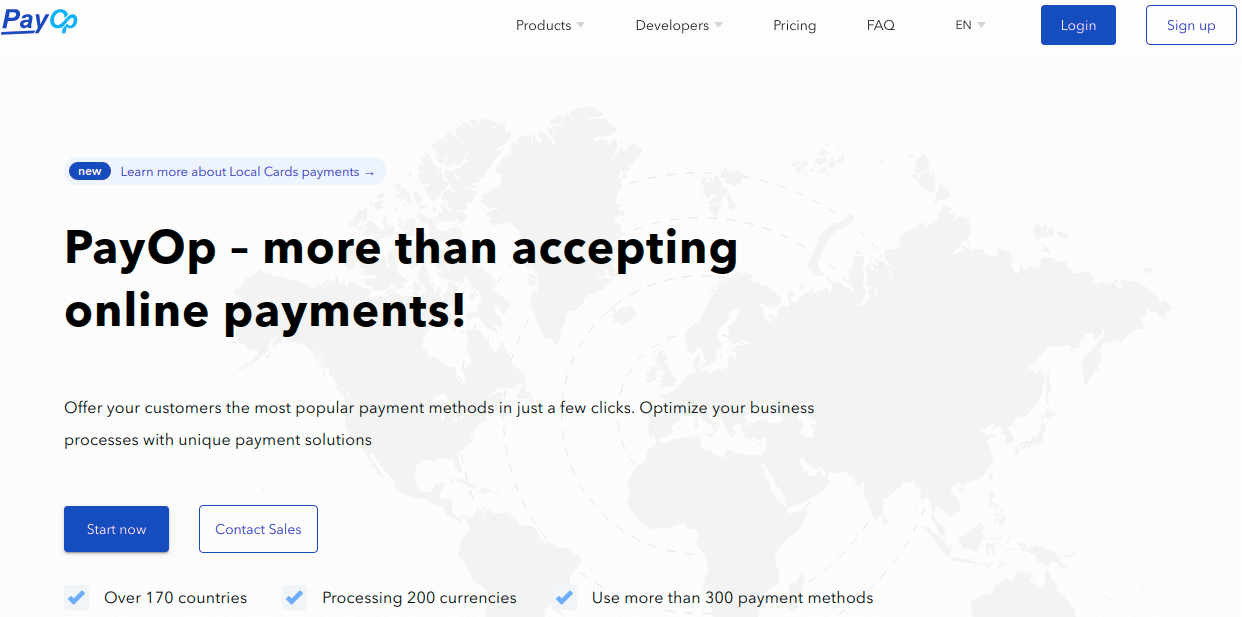 PayOp is an international payment processor and a payment aggregator for various types of businesses.
We help businesses accept payments on their websites worldwide by processing online payments from their clients no matter where they are and what payment method they use.
PayOp is available internationally in more than 170 countries and offers more than 450 payment methods which include international and local cards, bank transfers, internet banking, e-Wallets, prepayment, mobile payments and cash.
PayOp is now available in Europe, North America, LATAM, MENA countries, Asia, the Pacific and other regions.
Merchants can integrate the PayOp payment solution using API or our tailor-made plugins within a few hours.
Each merchant can choose from several withdrawal methods, such as international cards (Visa/MasterCard), bank transfers, e-Wallets (Webmoney, Payoneer, QIWI, PayDo), Advanced cash, etc.
PayOp features:
Possibility to accept payments in any of 170+ countries (excluding sanctioned countries, i.e., Iran, Sudan, North Korea, Syria, Cuba).
Access to popular payment instruments to work with:

International cards;
Local cards;
Bank transfers;
Internet banking;
e-Wallets;
Prepayment;
Mobile payments;
Cash.

Among all online payment processing companies we offer the biggest range of payment methods (more than 450), such as Visa, Mastercard, Skrill, UnionPay, IDeal, Safetypay, Neosurf, Bradesco, Santander, Klarna, Sofort, Giropay, Webmoney, Poli, QIWI.
Ability to conveniently keep all of your online payments in one multi-currency account within one payment system.
Easy withdrawal in any currency to any account in any country.
User-friendly personal account with the ability to view transactions, general statistics on deposits and withdrawal of funds.
8 settlement currencies to prevent additional currency exchange.
Real-time currency conversion at the rate of the issuing bank.

Alternatives to PayOp for payment processing
2. Square


Square is a payment aggregator that allows merchants to accept payments around thr globe, including the USA, Canada, Australia, the United Kingdom, Japan, Republic of Ireland and France. The company is one of the top payment processors and provides exceptional service for various types of businesses.
One of Square's competitive advantages is its free card reader.
Square advantages:
Transparent, fixed prices.
Excellent tech support.
No monthly fees.
Large set of functions.
The company provides card readers.
Free tools for online sales.
Square disadvantages:
Not suitable for high risk industries.
High commissions for large businesses.
3. Payeezy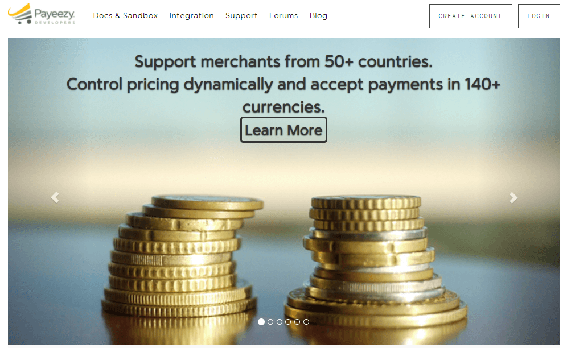 Payeezy is a payment gateway for e-commerce sites that allows users to pay with a multiple payment methods. This payment gateway operates in more than 50 countries around the world.
The company is a subsidiary of First Data Corporation, the largest acquirer in the world.
Payeezy advantages:
Accepts more than 140 currencies for payment.
Available to users from 50 countries of the world.
Accepts all major providers of Visa, MasterCard, American Express, JCB, Discover, and Diners Club.
Direct API integration. Accept payments without redirects.
PCI DSS certification.
MOTO support.
Payeezy disadvantages:
Complicated password recovery procedure.
Suitable for small businesses only.
4. ChronoPay


ChronoPay is an international service for accepting payments by credit cards and electronic money for merchants from various business areas. The main payment methods available to customers: VISA, MasterCard, Maestro, MIR, Webmoney, Yandex-money, QIWI.
ChronoPay advantages:
Accept payments from all over the world;
Recurring payments. Subscription payments;
Individual design of the payment page;
Payments analytics;
Transaction failure minimization tools.
ChronoPay disadvantages:
Difficulty canceling a subscription;
When making payments, even for low amounts, the buyer must provide identity documents
Website doesn't contain information about fees.
5. Flagship Merchant Services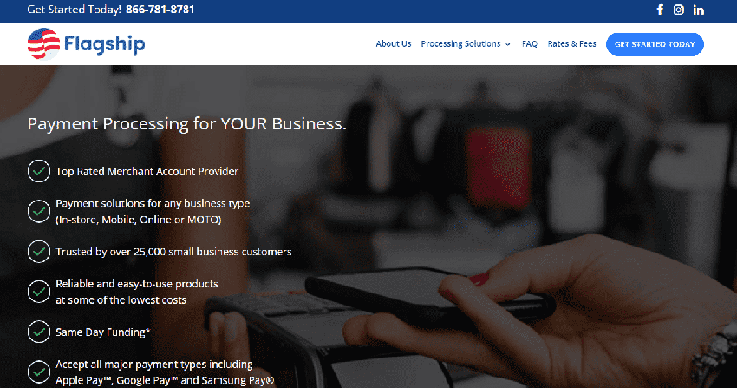 Flagship Merchant Services is one of the popular payment providers for online businesses. By connecting a merchant account with Flagship Merchant Services, the merchant will have access to a payment gateway, virtual terminal, fraud protection systems, analytics tools, and other payment instruments.
Flagship Merchant Services features:
Payment solutions for any type of business (online and offline).
MOTO payments.
More than 25,000 registered merchants.
Individual manager.
Quick account setup.
Flagship Merchant Services fees.
6. Boku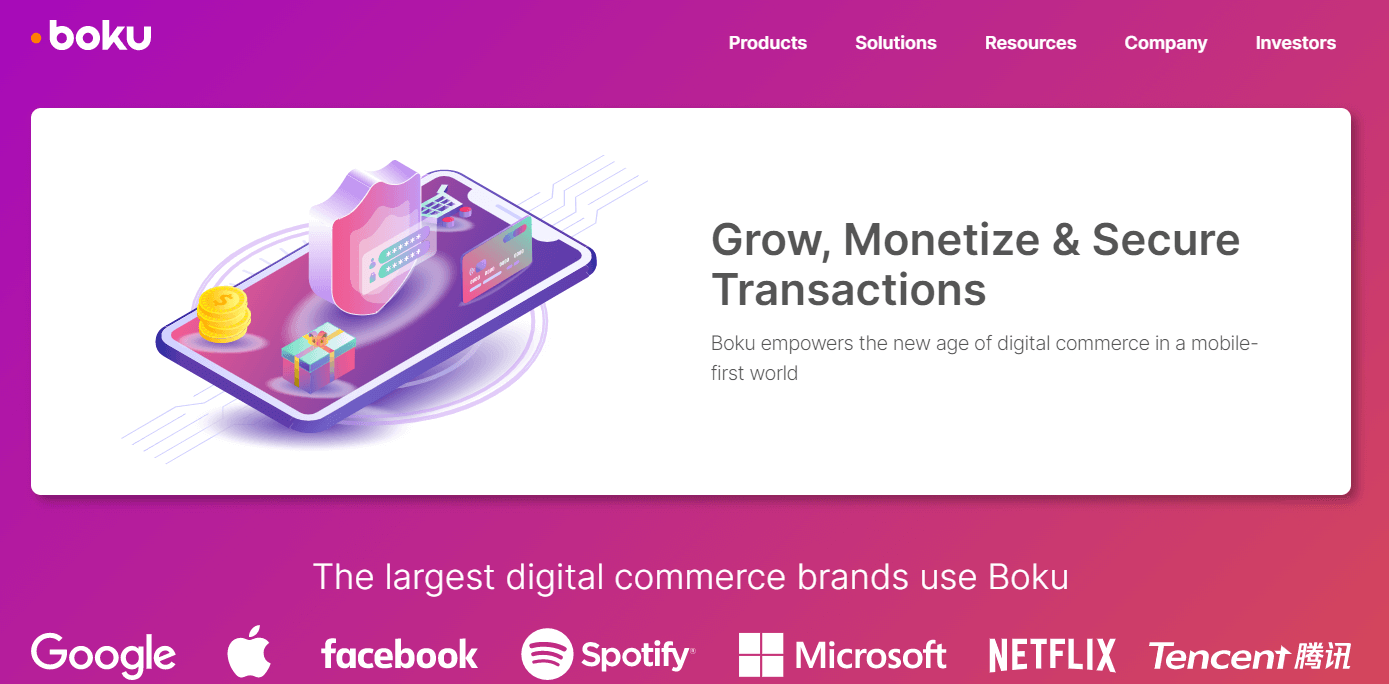 Boku Inc. is a financial institution that provides a mobile payment platform (similar to an electronic wallet) that allows users to pay for goods and services using their mobile phone number.
The company provides services in 90 countries and conducted over 1 billion transactions in 2020.
Boku is one of the top payment processors in the world with partnerships with companies such as Apple and Facebook.
Boku Inc advantages:
Security. The company does not collect user banking data. The only information required is a mobile phone number.
The company works with high risk industries.
One of the largest mobile payment processing networks in the world.
Boku Inc disadvantages:
Deposit restrictions.
Withdrawal restrictions.
Website doesn't contain information about fees..
7. Payment Depot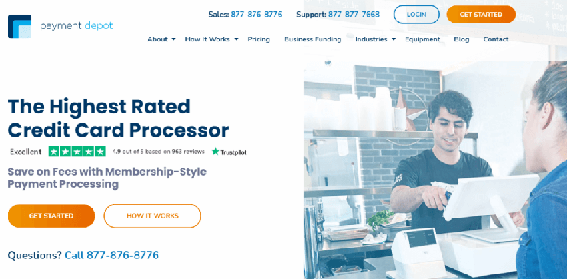 Payment Depot is US popular merchant service provider. The company provides merchants with the ability to accept various types of payments. One of the benefits of Payment Depot is the provision of a dedicated merchant account. Such an account cannot be frozen or suspended.
Payment Depot advantages:
Optimal for medium and large businesses.
Regular payments. Subscription payments.
The company provides credit card machines for small business.
Virtual terminal.
Technical support 24/7.
Payment Depot disadvantages:
Doesn't work with high risk industries.
Available only to US merchants.
Monthly fees.
8. Fondy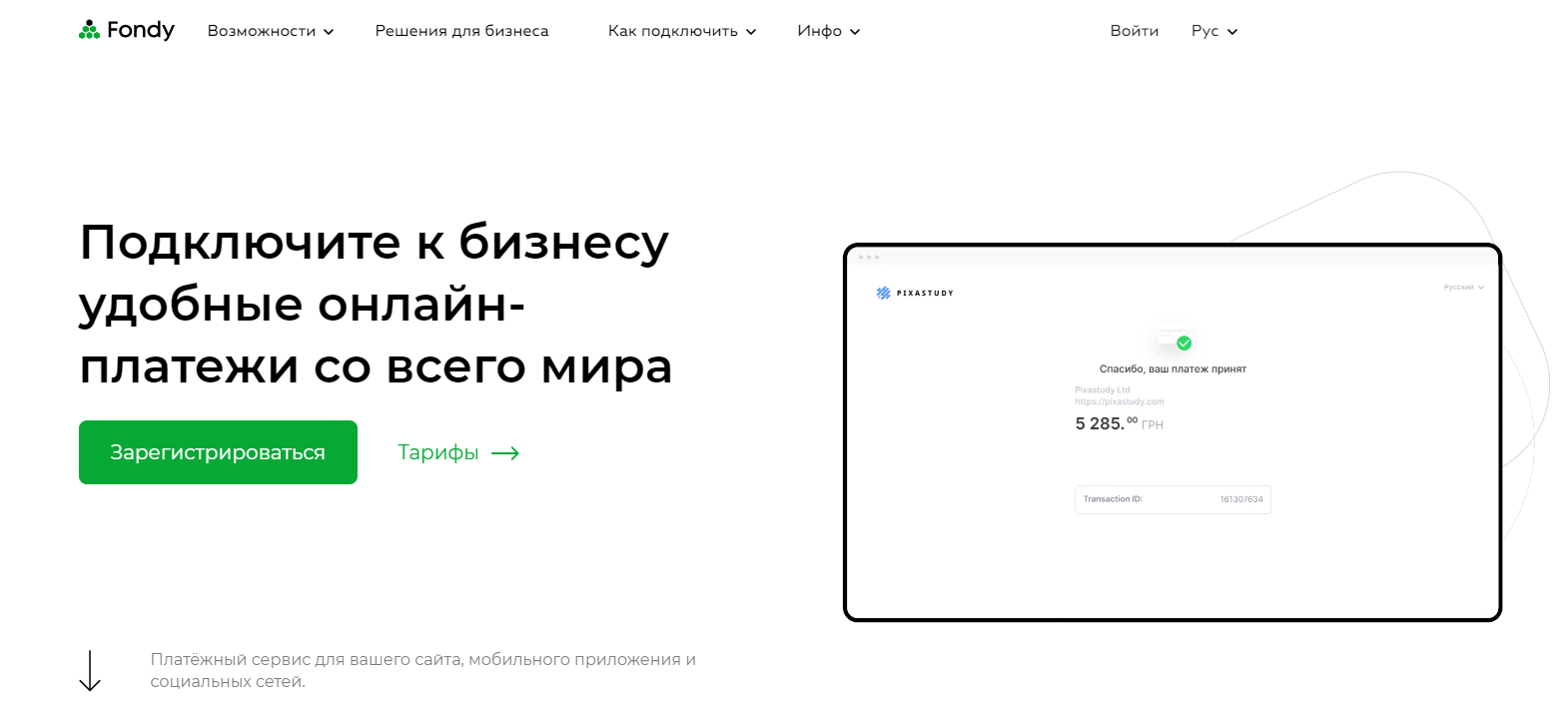 Fondy is an international payment system and online payments solution that provides Internet acquiring services for various types of businesses and is one of the top credit card processors for small businesses. The company operates all over the world, but the majority of its clients are Ukrainian companies. In addition, Fondy offers a white-label solution for banks, IPSPs, and processing centers.
Fondy features:
Acceptance of payments in 100 currencies.
A large number of payment methods, including local payment methods, cards, online banking.
Tokenization of payment cards.
All card payments are protected by 3D-secure.
Payment analytics.
9. RazorPay


Razorpay is an online payment provider that enables businesses and individuals to accept, process and make payments around the world.
The solution supports a variety of payment methods including credit and debit cards, internet banking, UPI (Unified Payment Interface) and e-wallets.
Razorpay benefits:
Accept payments from over 100 countries.
One of the top high risk payment processors
Good for small businesses.
Subscription payments.
Invoicing.
Razorpay disadvantages:
Withdrawal limits.
Long verification time.
10. Paytm


Paytm is India's top payment processor and a payment platform that allows users to transfer money to an integrated wallet using online banking, debit and credit cards, or even cash deposits through designated banks and partners. Using the money in your Paytm wallet, you can pay for goods and services on the Internet. Paytm features include, among other things, top-up your phone account, payment for utilities, booking tickets, paying for a taxi, etc.
Paytm features:
High speed ​​and security of transactions.
International coverage.
Automatic refunds.
Accept payments in various currencies.
Fee for withdrawing funds from a Paytm wallet to a bank account – 4%.
11. WorldPay


Global payment solutions provider Worldpay provides payment solutions around the world. The company's clients are both individuals and legal entities.
Worldpay offers a virtual terminal that allows business owners to accept payments from customers by phone, computer or tablet. Real-time reporting helps keep track of all payments made.
WorldPay features:
The company provides international payment processing including SEPA countries.
Multicurrency. Support for over 120 types of currencies.
Recurring payments.
API integration. Customization of the payment page.
Virtual terminal. Accept payments by phone, tablet, or computer.
Real-time transaction tracking.
12. Adyen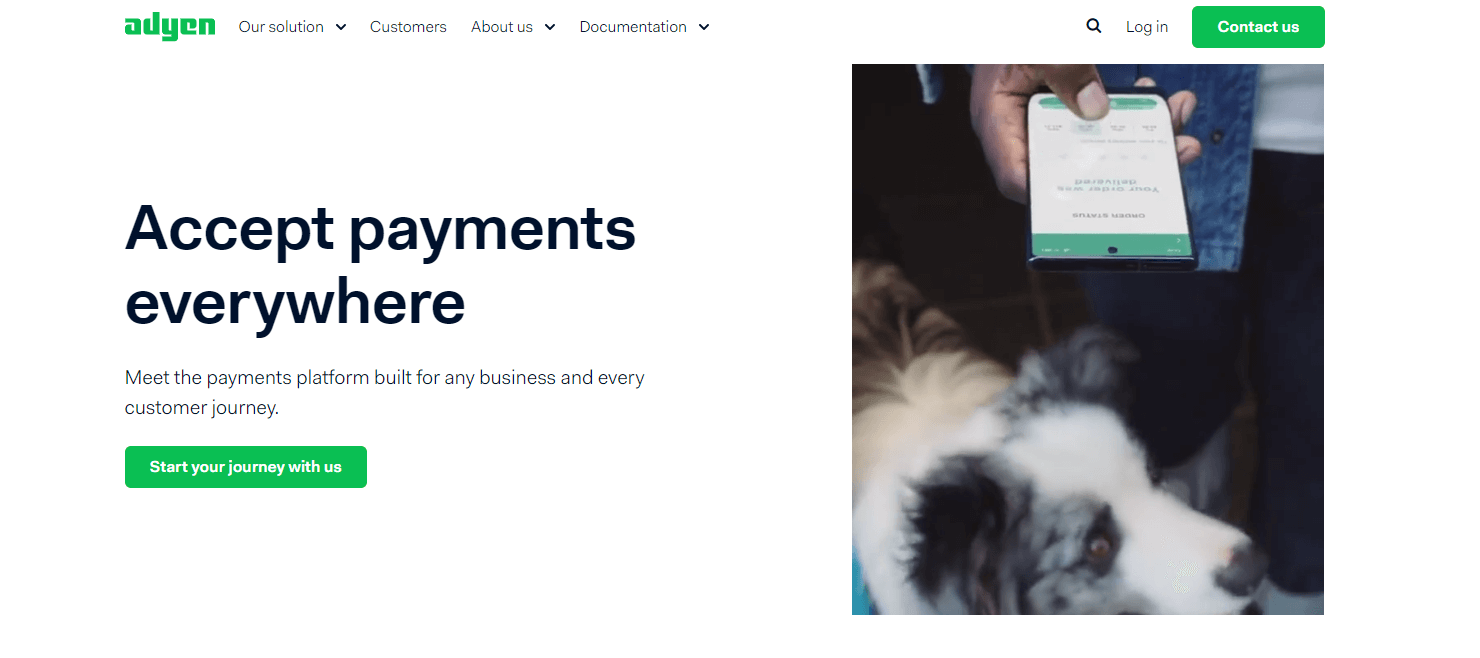 Omnichannel payment processor Adyen provides merchants with the ability to accept payments in almost all European countries, partly in the USA, Channel, Australia, Brazil and Singapore. Among the solutions provided by the company, merchants get a payment gateway for online payments, credit card machines for offline small business, and mobile payments. Adyen also provides a merchant account opening service that every online business owner needs.
Adyen features:
The ability to keep funds in separate accounts for each project.
Global coverage.
Management of risks.
High conversion rate of throughput of payments.
ACH payments.
13. 2Checkout


2Checkout is a payment processor that allows online business owners to accept payments globally, allowing customers to pay for goods and services through various payment solutions, both international and domestic.
2Checkout features:
No cchargeback fees.
Credit and debit card processing.
Acceptance of payments from 200 countries.
Fast integration with over 100 e-commerce platforms.
Recurring payments.
14. Authorize.net


Authorize.Net was founded in 1996, making it one of the oldest services that provide financial processing services for various e-commerce projects. The company provides two different solution types:
Payment gateway (for those who already have a merchant account);
Payment gateway and a merchant account.
Authorize.Net features:
Subscription payments.
Transparent pricing policy.
The company provides portable card readers for physical point of sale.
The ability to accept, send and receive payments from the USA, Europe, UK, Australia and Canada.
MO/TO payments.
Suitable for small, medium and large businesses.
15. SecurionPay


SecurionPay provides simple solutions for online payments and mobile payments to online stores in 50 countries, including the UK. In addition to the flexible and reliable SecurionPay API, the system allows the integration of payment solutions by dragging and dropping the necessary blocks, so that users without technical skills can easily set up payment acceptance.
SecurionPay features:
Acceptance of all popular payment cards.
The ability to accept payments in 160 currencies.
Work with high-risk industries.
Recurring payments.
One-click payments.
Tokenization of payment cards.
16. ACH Payments


ACH Payments has been providing electronic payment processing solutions to thousands of businesses of all sizes for over 13 years.
ACH Payments features:
Security and prevention of theft of confidential data.
Automation of transactions.
Configuring notifications.
User authentication and verification tools.
Various payment methods.
Fast integration.
White label solutions.
17. Bitpay


BitPay is one of the top payment processors in the world that specializes in accepting and processing crypto payments. The company also provides customers with a crypto wallet and cards.
In addition, BitPay merchants can accept payments in traditional currency. In this case, the client makes a payment in crypto, it is converted at a fixed rate into the currency chosen by the merchant, and goes to the merchant's BitPay wallet.
BitPay features:
The service supports payouts in 8 currencies and direct bank deposits in 38 countries, including two-day USA ACH deposits.
BitPay can be easily integrated with Shopify and also offers plugins and POS for online and physical merchants.
The company has also released a mobile Bitcoin wallet and a Bitcoin Visa card to consumers.
18. Braintree


Braintree is a payment platform with all the necessary functionality for accepting, processing, and withdrawing funds. Through Braintree, you can accept PayPal, US Venmo, all major credit and debit cards, digital wallets, local payment methods, and ACH payments in over 130 currencies from 45 countries.
One of the features of Braintree is the provision of individual merchant accounts to merchants.
Braintree features:
Dedicated merchant account.
International payments.
Preventing chargebacks.
Advanced payment analytics.
19. CCBill


CCBill is a merchant account provider specializing in international payment processing for e-commerce businesses. The company may also provide credit card processing services for nonprofits, subscriptions, and entertainment organizations. CCBill processes over $ 1 billion in online transactions annually through over 30,000 merchants.
The organization has many offices in various European cities and offers transactions in all major international currencies such as the US dollar, euro, British pound sterling, Canadian dollar, Australian dollar and Japanese yen. The company offers a simple setup process for activating a merchant account along with a free payment gateway.
CCBill features:
Top high risk payment processor.
Transparent fees
No monthly fees.
No closure fees.
Multicurrency processing.
20. EMerchantPay


Emerchantpay is a leading provider of online payments, mobile payments and POS payments. The company helps e-commerce businesses of all sizes from a variety of business sectors to accept payments through multiple customer touchpoints.
The system's capabilities include robust payment processing technology combined with popular alternative payment methods and a range of acquiring services.
Emerchantpay features:
50+ payment methods.
Customizable payment pages.
Anti-fraud solutions and risk management.
Integration with major e-commerce platforms.
Website doesn't contain information about fees..
21. First Data


First Data Merchant Services is a financial and merchant services provider that provides top payment processing solutions for the education, government, healthcare, social services, financial institutions, and small and large businesses across multiple industries.
Fiserv features:
The broadest range of banking platforms – from internal to external – that best fit the institution's budget and goals.
Service-Oriented Architecture for Unlimited Integration.
End-to-end check processing, combining electronic clearing and remote deposit collection technologies for immediate results without the use of paper documents.
End-to-end account processing solutions that efficiently manage transactions with minimal risk.
High quality private label money transfer processing solutions for financial institutions.
First Data Merchant Services fees.
22. Global Payments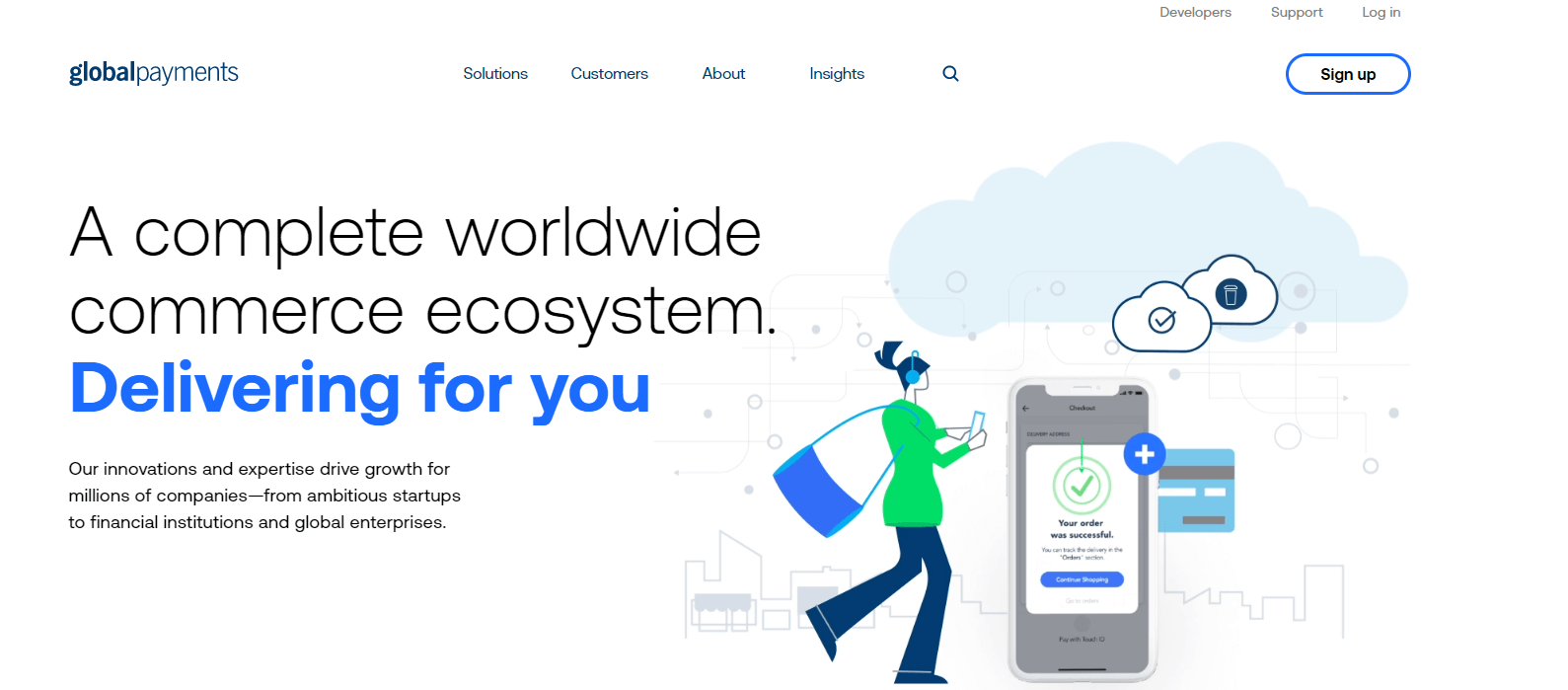 Global Payments Inc. is one of the largest providers of payment solutions in the online payments industry. The company provides services to merchants from over 38 countries around the world. This company is perfect for large merchants with complex requirements.
In addition, there is an opportunity for large businesses to process at a reduced price.
Global Payments features:
International processing. Acceptance of payments in 140+ currencies.
Virtual terminal.
Subscription payments.
Terminals for physical points of sale.
Mobile payments.
Microtransactions.
23. GoCardless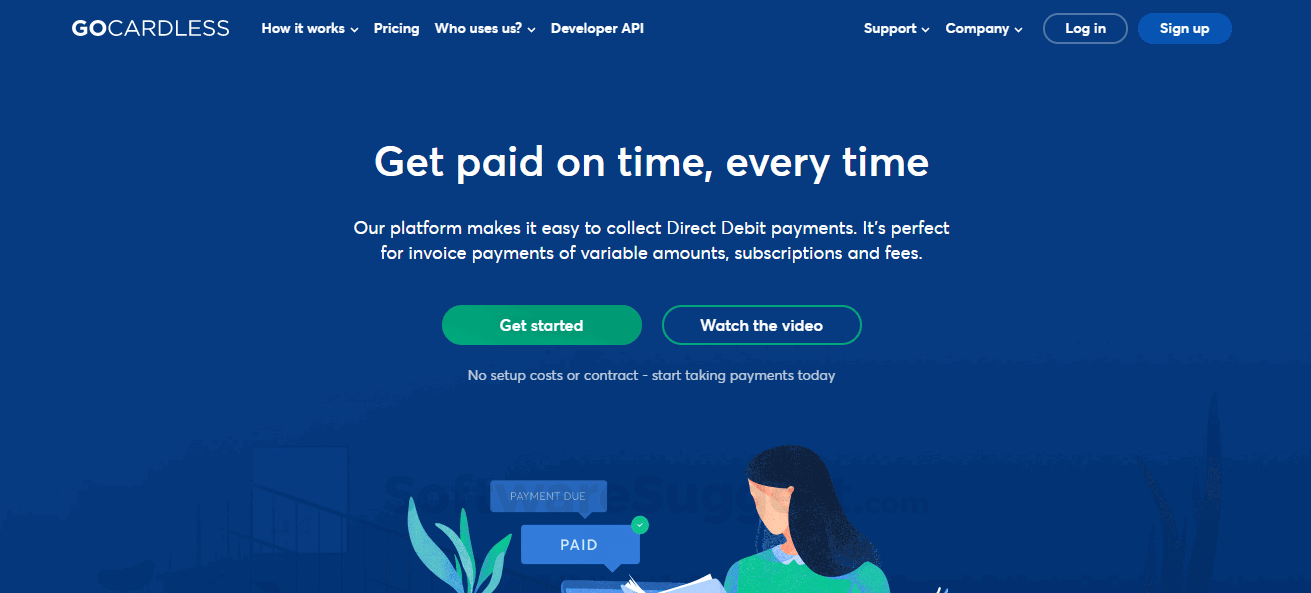 GoCardless is the world leader in recurring payments. The global technology platform GoCardless has more than 65,000 businesses around the world, from multinational corporations to local businesses. GoCardless processes $ 20 billion in payments annually in over 30 countries.
GoCardless features:
Fast acceptance of payments.
Ability to cancel payments at any time.
Security of transactions. In case of difficulties, you can request a refund.
24. Klarna


Klarna is a payment gateway provider created by the Swedish bank Klarna Bank AB. The system offers its services to business representatives to receive payments, as well as to individuals to pay for goods and services on credit. One of the company's features is the ability to pay for the goods after receiving them. In addition, the payment can be divided into several equal parts. At the same time, the company does not charge additional fees.
Klarna features:
The system can be easily integrated with existing technological platforms and payment terminals.
Customized e-commerce solutions available.
The Klarna payment solution is available to merchants in Sweden, Norway, Finland, Denmark, Germany, Austria, the Netherlands, the United Kingdom and the United States.
25. Nochex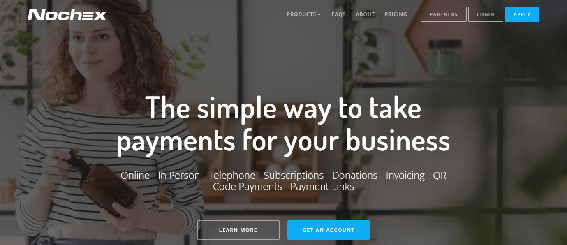 Nochex is one of the best small business credit card processing companies that provides all-in-one solution for merchants around more than 50 countries.
The company is targeting smaller businesses that operate almost entirely online, which means brick and mortar business owners might want to look elsewhere.
Nochex features:
UK Based Account Manager.
Supported by all the major eCommerce platforms.
Advanced fraud protection.
Customers can pay without an account.
Customisable checkout.
Wrapping up
To receive payments from customers and withdraw funds without any issues, you need a reliable payment partner. In this article, we have listed merchant processing companies suitable for various businesses around the world.
This list will help you choose the best solution without wasting time on long searches.
We at PayOp, in turn, are ready at any time to assist in integrating and setting up a payment gateway for any business type. Just sign up for a free account and go through simple verification.
Happy processing.