25.09.2020
Contactless payments explained
2020 started with a global pandemic that trippingly overtaken the world. People started to massively abandon the cash and to take notice of alternative payment methods.
Many types of businesses have evolved, moving online, and have stimulated customers to pay virtually. Consequently, many delivery services have arisen that help inhabitants to get goods without leaving a house.
The Futurist Group, which specializes in the analysis of the payment preferences of US consumers, has made a comparative analysis of how the share of contactless payments changed before and after the outbreak of the Coronavirus pandemic.
With a sharp jump in the incidence in early March 2020, 38% of consumers reported that they consider contactless payments as one of the main payment methods. At the same time, Visa reported a 24% increase in consumers who used contactless payment methods in March than last month.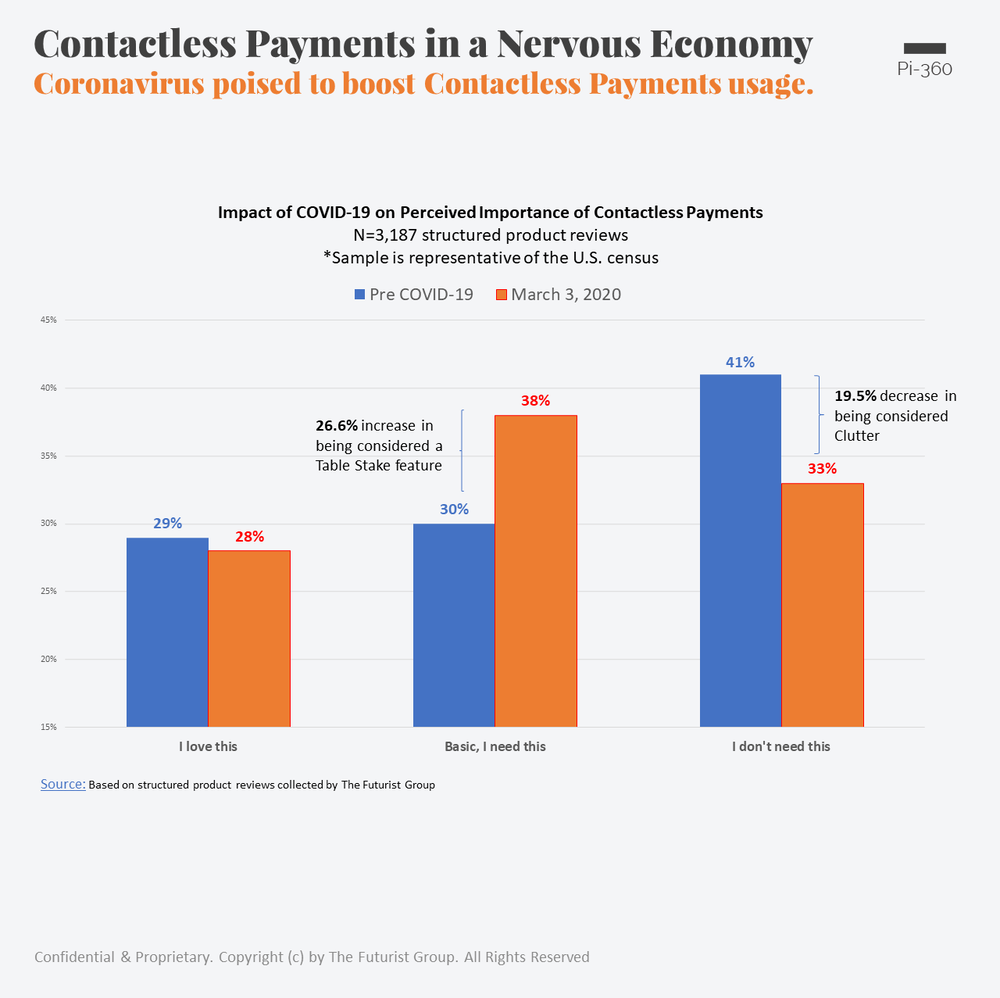 So as many customers drew their attention to cash alternatives, we at PayOp decided to find out how reliable contactless payments are.
What are contactless payments?
Contactless payments(NFC) is a technology that allows anybody to make purchases by setting any device to a POS terminal. By any device, we mean a smartphone, watches, bank card, key tag, or other objects that support the NFC technology. The unique approach Is rapidly growing its popularity as it leads to the process of buying at a higher level.
Bank cards and other devices that support NFC have a chip inside that emits radio waves. To pay for goods, you need to bring the item at a distance of about 5cm to the payment terminal
The payment terminal will confirm the payment or reject it.
Are contactless payments secure?
One of the main concerns of contactless cards' potential users, along with the inability to pay with them due to the lack of terminals, is the insufficient security of the cards. Many people are afraid of using contactless payments. However, international market experts assure that such cards are even safer than traditional ones, as they have exceptional fraud prevention systems.
Data encryption
All payment institutions use all kinds of methods to hide customer payment details. In other words, when a user creates a Google pay or Samsung pay account, this information is securely protected.
Contactless payment systems use a special token to transfer real data. Its other name is DAN (device account number). This token contains information that allows you to identify both a mobile device and a payment card. We can safely say that contactless payment systems do not transfer banking data as such.
Of course, like any system, there are risks here as well. When the map is initially loaded into the system, it takes a split second to create a DAN. Hackers can use this moment to get up-to-date information. It is as if you were paying at a store with a credit card and the person behind you was trying to take a photo of your card details.
Dynamic security codes
For added protection against fraud, each mobile payment transaction also contains a randomly generated transaction-specific security code, which is similar in principle to the CVV code. The transaction will not complete if the DAN and security code are not authenticated.
The DAN code combination is always unique and randomly generated and comes from a specific device. This means that it is almost impossible to conduct a fraudulent transaction – there is no point in stealing a random code that you cannot use in any way.
Locking the device
Many mobile systems have device lock or "lost mode" features that prevent unauthorized access to lost or compromised devices.
For example, Android Pay users can lock their devices, freeze their accounts, and remotely wipe any stored information (like passwords and credit cards) through the Android Device Manager. Apple Pay's Lost Device Mode, available through Apple's iCloud, has similar capabilities.
Credit card fraud protection
Mobile payment platforms generally do not have their anti-fraud protocols, although they usually have employees to deal with incoming issues. However, if you are using a contactless payment device, then the company that provided the device is also responsible for security.
Other protection methods
While the basic methods of securing contactless payments remain the same for everyone, some companies are adopting their own technologies. Samsung Pay, for example, has a fingerprint verification system. Other companies use retinal scanners, heart rate monitoring and other methods.
The advantages of contactless payments
Payment processing speed
One of the problems with using chips is the extra time it takes to complete a transaction. With contactless payments, there is no need to swipe cards and you get the best buying experience. There is also no need to carry a bank card or wallet with you, you can pay with any compatible device.
Besides, an increase in the speed of transactions reduces queues in stores.
Improving customer loyalty
Customer desires come first. Reducing the waiting time for payment confirmation makes customers more loyal to the business. This is a particular benefit for retailers.
Also, companies using NFC are showing a willingness to develop new technologies.
Decrease fraud ratio
Indeed, fraudulent schemes change at a rate in direct proportion to the invention of new technologies.
According to Action Fraud, in 2018, in the UK, the number of requests related to contactless payment fraud almost doubled compared to 2017. Despite this, according to UK Finance, the share of contactless payments in online fraud is only 3% in the first half of 2018.
It is considered that the most common cases occur precisely when a bank card is stolen, and not when making an NFC payment.
What is needed to accept contactless payments
For a business to accept contactless payments, there are two conditions must be met:
Availability of an appropriate payment system (Google pay, Apple pay, Samsung pay).
The presence of an NFC reader, or, for online payments, support for the corresponding payment method.
Most major issuing banks and payment processors partner with most platforms to provide mobile payments. Regardless, agreements between card issuers and payment platforms can be terminated at any time for several reasons.
Also, loyalty cards of some stores can cause some difficulties. Some of them are incompatible with contactless payment methods.
The availability of NFC readers. NFC terminals are widely used largely due to their low cost. The usual price for such devices is $ 50. And many payment platforms provide them for free. Since it is beneficial for both merchants and payment companies, the fees for using such devices are kept to a minimum. There is only the standard commission for interbank transfers.
Synchronizing an NFC reader with a POS terminal is very simple. It takes only a few minutes to install the necessary software and set up a merchant account.
On the other hand, many sellers are reluctant to use this system. This is due solely to the fear of introducing new technology, although there are no prerequisites to avoid the NFC technology.
Always stay on the top of the new payment trends with PayOp – your reliable payment service provider.