17.02.2021
Latin America local payment methods
Nowadays, online merchants have the opportunity to significantly strengthen their position on the market. There are already many ways for borderless e-commerce expansion. Alternative payment methods are one of the important parameters that affect the ability of a business to provide its activities around the world.
Alternative payment methods allow you to reach the largest possible number of customers and provide them with a convenient payment method.
In this article, we will take a close look at various payment methods that are widely used in the Latin American region.
Payment methods of Latin American countries
According to statistics for 2019, traditional payment methods are the leaders in terms of the number of payments made.


However, do not forget that the 2020 pandemic gave a powerful impetus to the development of new opportunities in e-commerce, in particular alternative payments such as online banking, invoicing, mobile payments, etc.
Online payment methods Argentina
According to various forecasts, the Argentine market is considered one of the fastest growing. The development of e-commerce is stimulating the use of various payment methods other than traditional ones.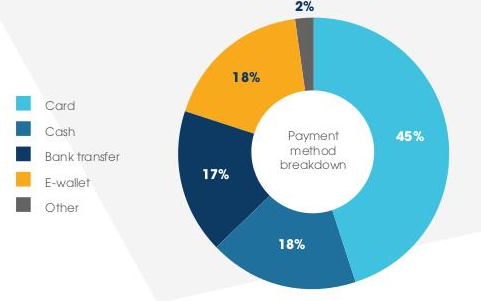 Brazil online payment methods
With the advent of 2020, electronic payments have taken a more significant place in our lives, and Brazil is no exception. In particular, due to the availability of various payment methods, mobile payments, e-wallets, and online banking is gaining popularity. Besides, the Central Bank of Brazil is committed to providing secure, fast, and cheap online payments to all citizens.
All this contributes to the expansion of the country's payment sector.
Speaking specifically about payment methods, according to research, in Brazil the distribution is as follows: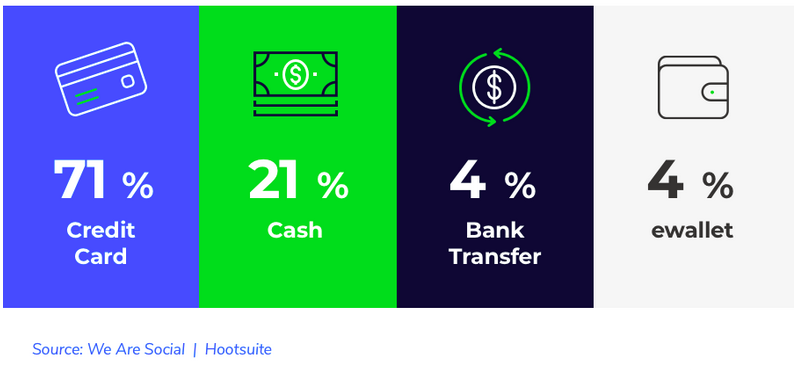 Mexico payment methods
The Mexican market in terms of e-commerce is very attractive to online merchants. According to Statista, the online retail market will continue to grow, although it is forecast to slow down.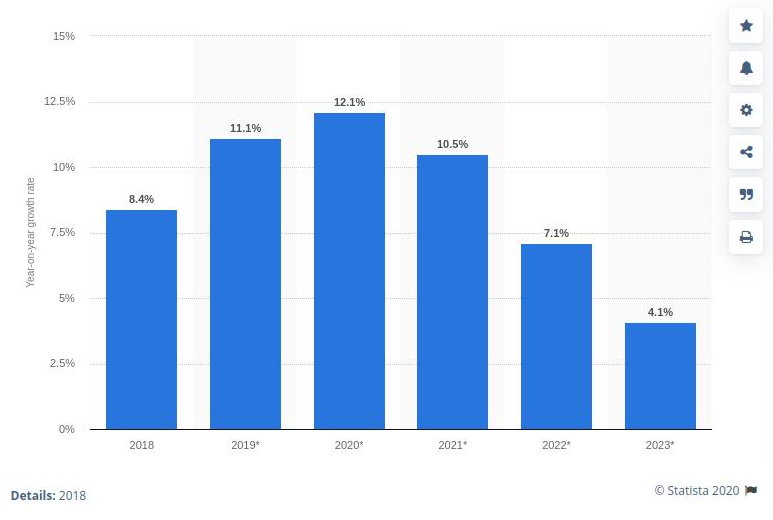 For online merchants, 2021 is the most attractive year in terms of entering the Mexican market and offering a wide range of payment methods will be one of the factors in the development of the company's presence on the local market.
Although traditional methods of payment (credit cards, cash) dominate among the online payment methods in Mexico, the share of alternative payments is increasingly prevalent among the inhabitants of the region.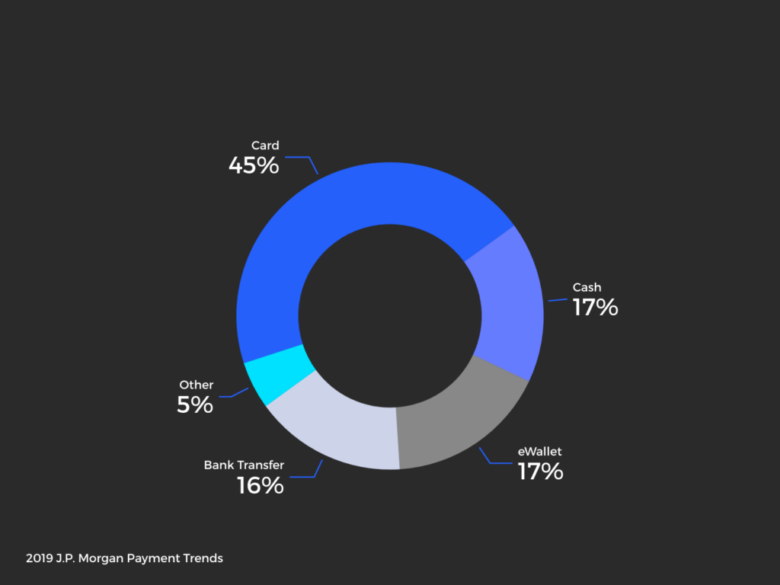 Thus, when choosing a payment partner, you should pay attention to the possibilities of local acquiring.
Colombia payment methods
According to research, the percentage of Internet users in Colombia has reached 70% for 2020. More than 22 million people in this country are expected to be e-commerce customers to one degree or another.
Most payments in Colombia are made with credit and debit cards (61%). While traditional payment methods dominate the market, keep in mind that many Colombians use alternative payment methods for their simplicity and convenience. Therefore, e-commerce merchants should pay attention to this segment of payments.
Peru payment methods
Data from CAPECE show that Peru's e-commerce market could grow by 200%.
Since the country has a rapidly developing economy, many merchants are interested in doing business.
In 2020, the distribution of payment methods in Peru is as follows: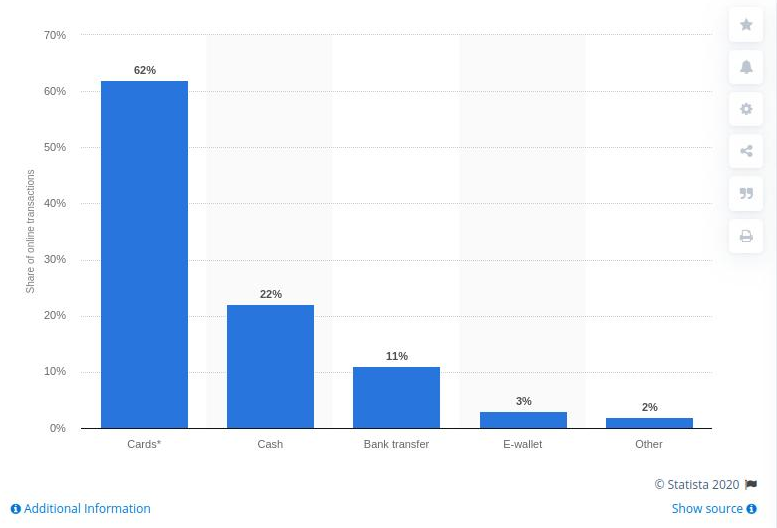 As of 2020, the dominant method is credit and debit card payments (62%). Cash payments (22%) are gradually decreasing due to the increase in Internet users, while the share of alternative payment methods, although small (16%), continues to grow.
Alternative payment methods of Latin American countries
Above, we have discussed the main payment preferences of residents of some Latin American countries. However, although traditional payment methods prevail in the region, alternative payments occupy a significant market share and potential buyers should not be dismissed. At PayOp, we offer local acquiring services for more than 170 countries, which will improve market penetration.
Banco do Brazil
The organization is a leader in the provision of banking and other financial services in Brazil. Most of the country's bank transfers are made through this bank.
Bradesco
Bradesco Bank is one of the largest private banks in Brazil. The organization provides a wide range of financial services, including accepting deposits, issuing credit cards, leasing, payment processing, brokerage services.
Santander
Bank Santander began operations in 1857 as a small Spanish company. Today it is an international banking organization operating in 10 countries. Santander's services are used by over 125 million customers worldwide.
Neteller
Neteller is an e-wallet that serves various business industries. The company provides fast and reliable transfers of funds not only within Latin America but also around the world.
Skrill
The processing service, which is one of the most popular in the world, provides services for the storage and transfer of funds in more than 180 countries.
Banco Agrario
The company operates in the banking sector and provides services to residents of Colombia. It is a state-owned bank specializing in financing activities related to the agricultural, livestock, fishing, forestry, and agro-industrial sectors. The bank has more than 740 branches throughout the country and a large number of clients.
Banco AV Villas
Banco AV Villas is a Colombian bank focused on providing financial services to medium-sized businesses. The company offers traditional banking services and has been actively offering consumer loans since 2020.
Banco BCI
Banco BCI is a Chilean bank, whose main activity is insurance, asset management, securities brokerage. The main goal of the bank is to support small and medium-sized businesses. Banco BCI is the fourth largest customer in Chile.
Banco Caja Social
Banco Caja Social is a Colombian bank, one of the oldest and most famous in Colombia, along with Bancolombia and Davivienda. The bank was created as a result of the merger of Banco Caja Social with Banco Colmena, taking the best of both organizations and providing the Colombian market with modern financial services.
Banco Colpatria
Scotiabank Colpatria is a Colombian financial banking organization that provides services to various market segments. Scotiabank Colpatria is a group of organizations that includes Banco Scotiabank Colpatria. The organization serves more than 18.6 million customers in 50 countries around the world. For those merchants who plan to capture the Colombian market, connecting this method will allow reaching a significant part of the audience.
Banco Cooperativo CoopCentral
The bank is a cooperative bank of mutual responsibility, a leader in the provision of financial and processing services, focused on the sustainability of the development of various businesses and their clients.
Banco Davivienda
The company is the third-largest bank in Colombia and provides a wide range of services to both merchants and individuals. The bank is actively expanding and provides an expanded range of services for small and medium-sized businesses.
Banco de Bogotá
Banco de Bogotá S.A., the second largest bank in Colombia by assets, offers a wide range of banking and financial products and services to a large portfolio of clients. The company operates in five segments: retail banking, small and medium-sized business banking, corporate banking, privileged banking, and microfinance services.
Banco de Bogotá has a global network of numerous local and foreign subsidiaries and affiliates.
Boleto
Boleto is a widely used payment method in Brazil. The market share among users is about 15%. Approximately 30% of Brazilians do not have a bank account, which is why Boleto's payment method is the main one among a large number of users.
Efecty
Efecty is one of the most widely used payment methods in Colombia. Users use this payment method both to pay for all kinds of services on the Internet and to pay for utilities. All payments are confirmed in real-time so the risk of chargebacks is minimal. PayOp provides one-click Efecty payment method integration.
The bottom line
Latin America is an attractive market for many foreign investors and merchants. Naturally, in addition to providing high-quality goods and services, merchants should also take care of the availability of making payments conveniently. In this article, we have mentioned only some of the payment methods of the region. PayOp provides more than 300 payment methods around the world, you can always view the full list for each region on our website.