22.02.2021
How to choose a payment method for business in 2021?
Doing business online means planning the company's finances, organizing payment acceptance on the website, and ensuring the safety of cash flows.
Every merchant strives to increase profits. This can be achieved by different methods: increasing the average customer check, encouraging them to buy more expensive products, entering new markets, and attracting a new audience.
However, if the customer cannot pay for the item, he will certainly leave the cart and will never come to you again.
Therefore, it is important to customize the acceptance of payments on the site in accordance with the preferences of the audience in a particular region.
Today we will get acquainted with various methods of accepting payments on the site and how a merchant can connect them.
The share of online payments by methods
In 2020, there was a significant increase in the share of online payments, while cash is gradually disappearing into oblivion.
Mordor Intelligence data clearly shows that mobile payments are the most popular, and the share of cash is rapidly declining.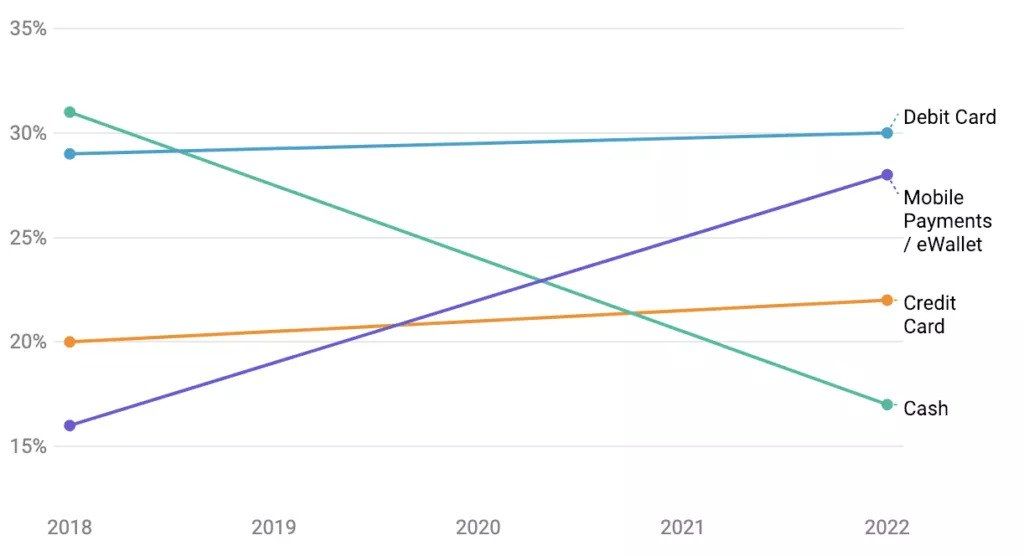 By providing customers with alternative payment methods, you not only improve conversion but also create a positive impression on your site, which significantly increases the likelihood of enticing a customer to use your services next time.
Besides convenience, the availability of an additional payment method helps to reduce the payment time.
We at PayOp have prepared a list of payment methods that customers use the most and which should be added to the site.
1.Accept credit and debit card payments online
The simplest and most common method of accepting payments online is credit and debit cards.
The most widely known credit card issuers are Visa, AMEX, MasterCard.
The organization of accepting credit and debit cards on the site provides a business with several advantages:
An increase in the speed of payment, and as a result, an increase in the number of transactions;
Customers will have more confidence in a website that is part of a global payment system;
Increase in sales.
2.ACH payments
ACH or Automated Clearing House is an international payment network that automates and coordinates online payments.
ACH is one of the most widespread methods to transfer money between banks without using paper checks, bank transfers, credit card networks, or cash.
The transfer of funds through the ACH network occurs through direct deposits and direct payments.
Direct deposits. This type of payment refers to any transfer of funds that is provided by a government or commercial organization to a consumer.
It includes:
Payment of salaries;
Any expenses reimbursed by the employer;
Preferential payments;
Payment of interest on deposits.
Direct payments. Direct payments include payments made by various organizations and individuals. Peer-to-peer payments are also made through the ACH network. Paying bills through a bank account is another example of direct payments.
The Automated Clearing House is a widespread method of online transfers in the United States, so if you plan to enter this market, it is worth providing this method to potential clients.
3.Mobile payments
Mobile payments are payments made using a phone, tablet, watch, and other items with a special chip installed. Users can use mobile payments to pay for goods and services by simply holding their phone up to the reader. This method is widely popular in countries with a poorly developed banking system.
Also, SMS payments are popular in many countries.
Benefits of mobile payments
Convenience. With mobile payments, the buying process has become much easier and faster. Mobile payments allow you to purchase from anywhere in the world using a digital wallet, as well as in any store that supports NFC payments.
Security. Credit card information is not stored directly on smartphones, but in the cloud. This way, your important information remains safe even if consumers lose their phone. Besides, the transmitted payment information is transmitted over a secure channel in encrypted form.
Track customer behavior. Online resource owners can better track customer purchases and thus optimize their sales. This helps to understand what goods are running out and to replenish stocks on time.
4.Providing local payment methods
Local payment methods are specific payment preferences depending on the country.
The importance of payment methods lies in the ability to cover the entire region, and not just a certain part of it.
PayOp provides local acquiring services for more than 170 countries, and a modern payment platform will help integrate more than 300 payment methods on the site.
Choosing a payment partner
Not all payment institutions provide global coverage for online businesses. Many work locally or in a specific region. It is important to choose a payment provider that will have the technical ability to meet the needs of the target audience.
Criteria to consider when choosing a payment processor:
Payment security. Business loss through fraudulent transactions is a significant problem. Minimizing the possibility of leakage of payment data is a priority for all participants in financial transactions. Therefore, it is important to choose a payment partner who can provide a secure platform with reliable software that will secure payments.
Integration. To integrate with a payment gateway, merchants need to provide a certain set of documents. Usually this is an identity card, registration address, financial statements for 2 years, information about beneficiaries, business plan, etc. Without this information, you will not be able to withdraw your funds to a bank account and they will be frozen. Verification of documents at PayOp usually takes 1 day, after which the merchant can integrate the payment gateway on the site and accept payments.
Fees. For making payments, payment processors charge a certain fee – a percentage from each transaction. However, these are not all commissions. For high risk business owners, the transaction fee will be slightly higher. In addition, such merchants will have to pay for each chargeback (approximately $ 20).
Withdrawal of funds. How soon can you withdraw funds? The ideal option would be the ability to withdraw funds immediately upon receipt of the merchant account. However, sometimes this process is delayed for several weeks. Insecure transactions or potentially fraudulent payment gateways are blocked and you will not be able to withdraw funds.
Each business owner has its own requirements for payment processors, so you can find the full list of services provided by PayOp on our website.
The bottom line
There is no "best" way to accept online payments. The constant development of online technologies contributes to the emergence of new payment methods.
As an international payment aggregator, PayOp provides its users with the ability to accept payments around the globe. If you have any questions – contact us and we will help you to quickly organize the acceptance of payments on the business web site. You can also sign up for a free account with our payment platform right now.