07.10.2020
How to create an online presence for your business?
Most businesses today are trying to move online using new technologies.
Many large companies use all available methods to promote their brand, including both social media channels and traditional media advertising.
For customers to be guaranteed to find your business on the Internet, and you get the maximum number of organic leads, it is not enough just to create a website or a group of your company in one of the social networks. After all, users are looking for information and choosing brands on different sites, in social networks and georeferenced, which means that your business needs to be present as much as possible on different online platforms.
Also, an active presence and constant, targeted communication with users on the Internet can create some uniqueness for them, provide a high percentage of incoming traffic, which is then easier to monetize.
Here are some reasons why companies should not only develop an online presence for business, but also plan to advance for several years ahead:
Potential clients, due to the rapid development of information technology, spend more and more time online. As a result, they make purchasing decisions faster.
The Internet is an endless source of information, so there you can find information about almost any company or product. The decision to purchase is also influenced by reviews of other users, the presence of a website with a convenient design, ease of ordering, and online consultants.
Online presence enhances the company's image.
Today it is important not only to have a website adapted for all kinds of devices but also to constantly update it, supplementing it with useful information. A company blog can be a great solution. With its help, you will not only share relevant information but also increase the value of your brand.
Also, profiles in various social networks will be an excellent solution to increase the transparency of the company. Statistics show that about 50% of the world's population uses social networks.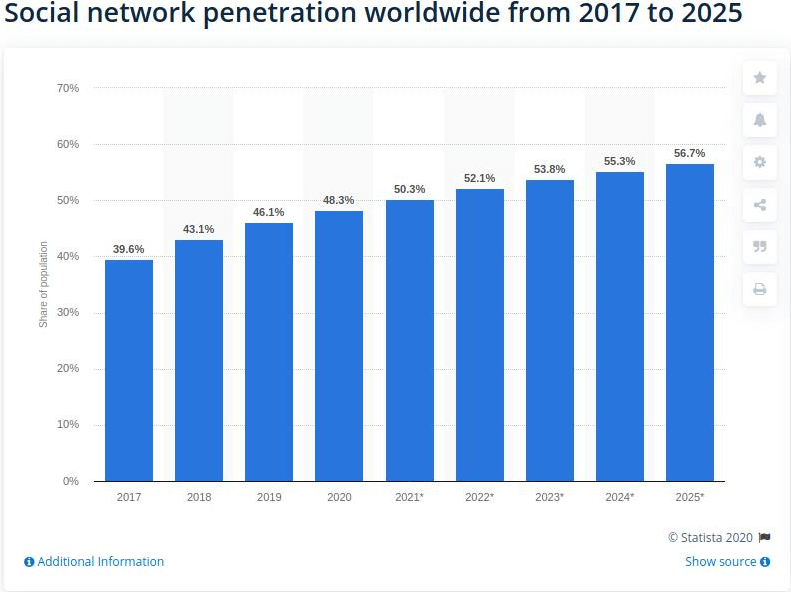 The business can operate 24/7.
There are many automated methods for working with online sales. Thanks to these technologies, online merchants have the opportunity not only to automatically accept applications outside working hours but also to process them.
Chatbots have gained widespread acceptance and are becoming more adaptive, improving the company's accessibility.
Online customer support.
The availability of technical support significantly increases conversion. Users are pleased to know that they can timely receive advice on the product they are interested in. Besides, you can create a Youtube channel and record a series of seminars or masterclasses. Having a section for answering popular questions will also increase brand loyalty.
Improved customer experience.
Online technologies allow you to quickly convey the necessary information to clients.
The more questions from your customers you can solve with the help of your website, or blog, the fewer questions your customers will have in the future and the faster the sale will take place, and, therefore, less administrative work for you.
How can a business optimize its online business presence?
Reviews
For search engines, having reviews is an indicator of brand popularity. Companies that have more reviews on various sites are more likely to be at the top of search results.
Plus, a positive review is a free recommendation of your brand to other users who might become your customers.
The main problem with reviews is that people who are happy with a purchase rarely share their impressions. Good service is considered the norm. However, you should still subtly invite your customers to share their opinion about the company, for example, by offering a discount on their next purchase.
The availability of payment methods
Understanding the online payments ecosystem is an important part of a business. Whether you're looking for alternative payment methods or just starting your entrepreneurial journey, choosing the right payment provider can save you a significant chunk of your income.
For entrepreneurs, when choosing a payment provider, ease of operation and setup is important. Moreover, the simplicity should be on the part of the client, so that they can make a payment with a minimum number of clicks. It is important for businesses to see transparent rates for service and payments.
Among the advantages of choosing the right payment provider are:
A significant increase in the number of customers due to the greater number of available payment methods;
optimize and develop a system for the supply and sale of goods;
reduce the time of product promotion to the market;
a high level of anonymity of financial payments made;
simplicity and speed of payment, as well as reduction of the necessary time costs.
Online directories
In no case should you ignore the surrounding online space. It is necessary not only to optimize the site, but also to expose it to the Internet community. Online directories and local listings are great for this.
In online directories, you need to create separate profiles with accurate information for each branch, and if the directory provides opportunities for posting comments, you need to work on organizing them.
You should not try to add the company to all directories. You need to work with large directories like Google My Business or Yahoo Business. But the correctness and completeness of the information presented in them must be carefully monitored, since search engines process it and use it in ranking and snippets. It is very important to ensure that the spelling of names, addresses, phone numbers coincides in different directories and on the company's website. The more accurate the match, the more trust the brand will gain from search engines.
In some business directories it is not very easy to fit in: you need to go through the information verification procedure. You may be required to provide certain documents: for example, a certificate of registration of an enterprise.
Email marketing
Email marketing is one of the main online marketing channels. In the hands of a specialist, email communication with a user becomes a powerful weapon to increase traffic, sales and customer loyalty.
To get the maximum result in Internet marketing, it is important to take a comprehensive approach to solving business problems. Only using all available channels can you get the result. Entering from the email marketing side, you build a "bridge" in communication with the consumer, get the opportunity to collect feedback and get closer to your audience.
Developing an email marketing strategy for a company includes:
First of all, you need to decide why you want to run this tool, what are your expectations from its work.
Audience segmentation. The subscriber base is heterogeneous, your letters can be intended for both ordinary users and business owners. Therefore, it is especially important to divide the audience by criteria. For this segment, the main division occurs by position, but you can create groups by frequency and volume of purchases, geography, and so on.
Schedule for sending letters. For example, it is convenient when subscribers receive emails from a company on the same day of the week. It is also worth deciding whether you will be sending additional mailings for the holidays or special offers. You need to build a competent mailing chain. There should be no chaotic and unscheduled letters.
Subject of the letter. We highly recommend that you prepare not only the subject matter, but also the letters themselves at least 3 months in advance. This content preparation strategy should be maintained at all times.
Audience acquisition channels. Use any point of contact to get email addresses of your potential customers.
The bottom line
Working on the online presence for business on the Internet requires attention and precision. If well organized, it gives the company an advantage in terms of both consumer demand and search engine rankings. The marketing component of this work can bring good returns, both direct and indirect.