01.06.2021
India Payment Gateway
By 2021, India is one of the fastest-growing countries in terms of population digitalization. Data for 2020 shows that the number of Internet users is about 700 million. In the United States, for example, this figure is only 300 million.
Most Popular Online Payment Methods in India
For online commerce, people in India use both traditional card payments and alternative payment methods.
The most popular payment method is the Unified Payments Interface (UPI).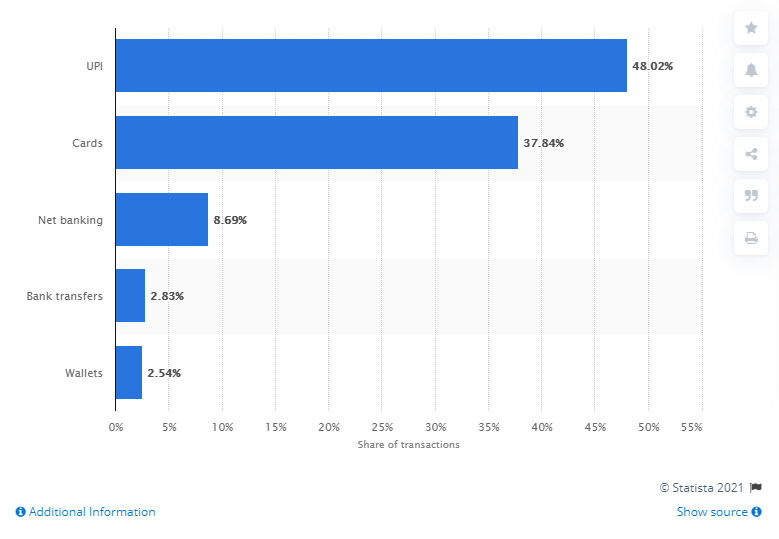 UPI is a real-time bank transfer system and the main payment method in India. Every India payment gateway is obliged to provide this method. It was developed by the National Payments Corporation of India and is regulated by the Reserve Bank of India.
UPI payments are popular both among merchants and ordinary users.
Every year, the popularity of the UPI payment method is only growing, and according to some forecasts, by 2024, its share will reach 59%.
Some types of bank cards in India are not available for international purchases. Therefore, Indian merchants should look for payment gateways that provide alternative payment methods, including UPI.
To a lesser extent, residents of India use Internet banking and e-wallets.
How does the payment gateway work?
Before analyzing how does the India payment gateway work, let's define all participants in an online transaction:
Payment processor;
Payment gateway;
Acquiring bank;
Issuing bank.
In addition to the main participants, a merchant account is required for payment processing in India.
Payment Processor
A payment processor is a company that manages the entire transaction process and acts as an intermediary between an online merchant and financial institutions. The payment processor authorizes transactions and facilitates the process of transferring funds from the buyer to the merchant.
Some payment processing companies in India provide additional services such as:
Card readers for points of sale machines;
Fraud prevention software;
Customer technical support;
Assistance in complying with PCI DSS requirements, etc.
Payment Gateway
Payment Gateway is a software complex that collects and transmits payment information from a client to banks. Besides, a payment gateway checks card data, encrypts it, and ensures the availability of funds in general, allowing merchants to provide online transactions.
The payment page on any e-commerce site is an illustration of a payment gateway.
Merchant account
A merchant account is a particular type of bank account that allows merchants to accept payments from customers. The payment gateway transfers the funds received from online sales to the merchant account first. After some time (several days), the funds are credited to the company's bank account.
How does a merchant account differ from a corporate bank account?
Merchant cannot get funds being transferred directly to a corporate account. Since the customer can return the product and claim for a refund, there are certain risks. Therefore, it is convenient to hold funds in an "intermediate" account and then transfer them to a corporate account.
Another advantage is that the payment gateway collects payments from sales in one place during the day and then transfers them to a corporate account with a single deposit.
How to get a merchant account in India?
To obtain a merchant account, a merchant needs to contact a third-party payment gateway (payment processor).
Why can't one go directly to the bank? Banks either do not directly connect merchants at all or connect them, but only under certain conditions. In addition, payment processors provide various types of payment connectors that allow businesses to quickly organize the process of accepting payments on the site.
Documents that merchants must provide to the Indian payment gateway to receive a merchant account:
Certificate of Incorporation, Memorandum, and Articles of Association;
ID card;
Information about the beneficiaries;
Photo of the merchant;
A copy of your phone bill;
Confirmation of the country of residence of the merchant and proof of the company's address, if different.
The list of documents may vary depending on the jurisdiction and the payment processor with which you partner.
The document verification time is also different. For example, the payment company PayOp verifies documents from 1 to 3 business days on average.

What does a typical transaction process look like?
The customer enters payment details via the web interface;
The details of the transaction are sent to the payment gateway. The payment gateway directs them to the acquiring bank;
The acquiring bank sends an authorization request to the payment system (Mastercard, VISA, etc.);
If the authorization request is approved, the issuing bank returns an authorization code that allows the payment system to complete the transaction;
This code is sent to the payment gateway, and the merchant receives information about the status of the transaction;
In case of positive authorization, the transaction is considered complete, and the seller can provide the service or send the goods. The money will be debited from the buyer's card and transferred to the merchant account.
How to Choose the Best Payment Gateway in India in 2021?
Needless to say that one should not try to choose the cheapest payment gateway in India. Some companies may charge additional commissions or hide unreliable services under the low rates.
To choose a payment gateway, let's consider the following criteria:
Coverage. By coverage, we mean the number of countries from which the merchant can accept payments on the site.
Payment methods. Credit and debit cards are good, but people in different regions are increasingly using alternative payment methods. It's fast, convenient, and safe. In India, it is a UPI payment method; in Europe, PayPal is the most popular; in Africa – mobile payments.
Integration method. There are two popular India payment gateway integration methods: API and hosted payment page.

API is an integration method in which the payment page is integrated with the merchant's website. All stages of payment take place directly on the site without redirecting to an external page. In addition to an improved user experience, this type of integration allows the merchant to customize the payment page for the site's needs.
A Hosted payment page. The completion of the payment with such an integration type occurs in a new window – on the payment processor's server. Some users may refuse to enter data on an external resource, leading to a decrease in conversion. The advantages of this method include:

The payment provider is fully responsible for the security of transactions;
Integration takes place in a few clicks.

Commissions. The processing costs differ from company to company. The average transaction fee for international cards is 3%. Some companies charge a flat fee to set up a payment gateway and a monthly fee to use it;
Support. Technical support specialists must constantly contact customers, promptly solve emerging problems and provide information about product updates.
To get the best payment gateway in India, a merchant should proceed from the needs of the business and be guided by the criteria given above.
Top 5 Best India Payment Gateways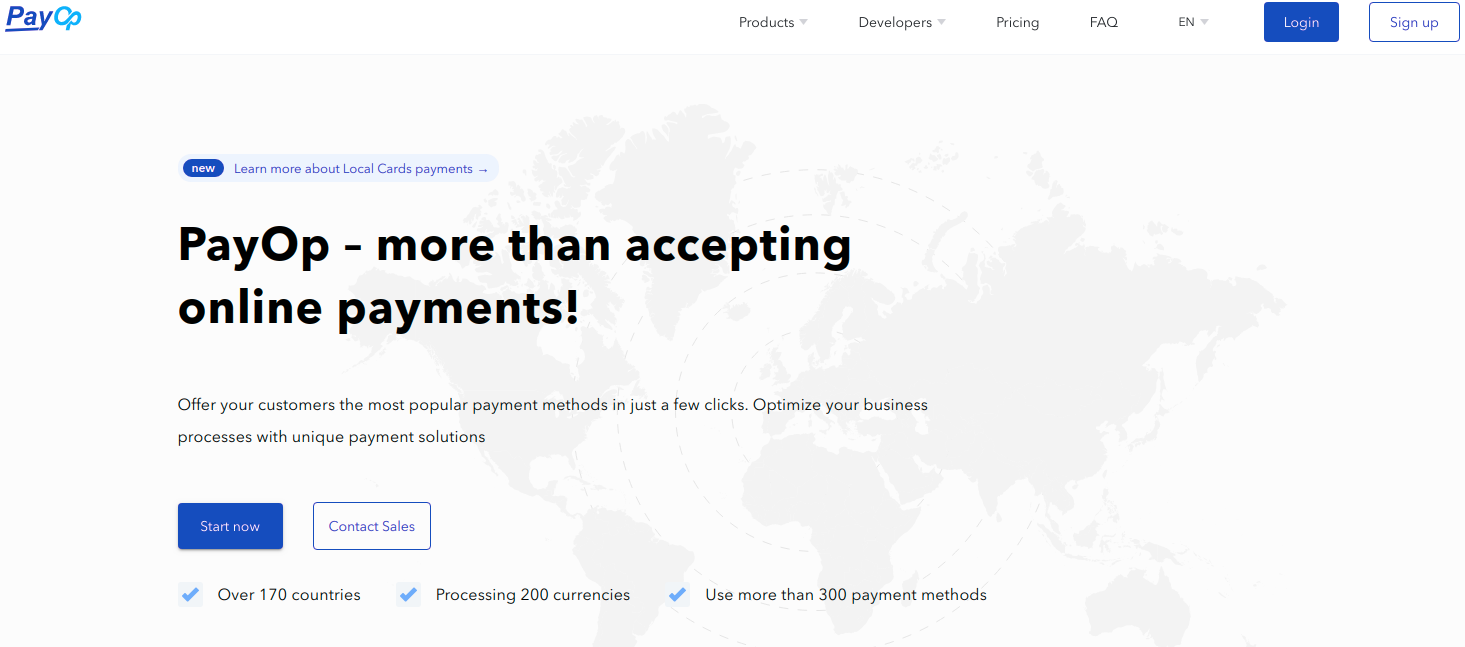 PayOp payment gateway is a reliable payment processor that provides services to merchants worldwide, including India.
The company provides a wide range of payment methods, both traditional and alternative, to cover the maximum number of potential customers.
PayOp benefits:
Global coverage. The company works with merchants from over 170 countries (excluding sanctions);
More than 200 alternative payment solutions for the convenience of users;
Fast integration. The company's specialists verify documents from 1 to 3 working days;
Massive conclusions. A large number of withdrawal methods. Withdrawal to the card of any bank in the world;
Fraud protection;
Working with high-risk industries.
Commission 2.4% + 0.2 $.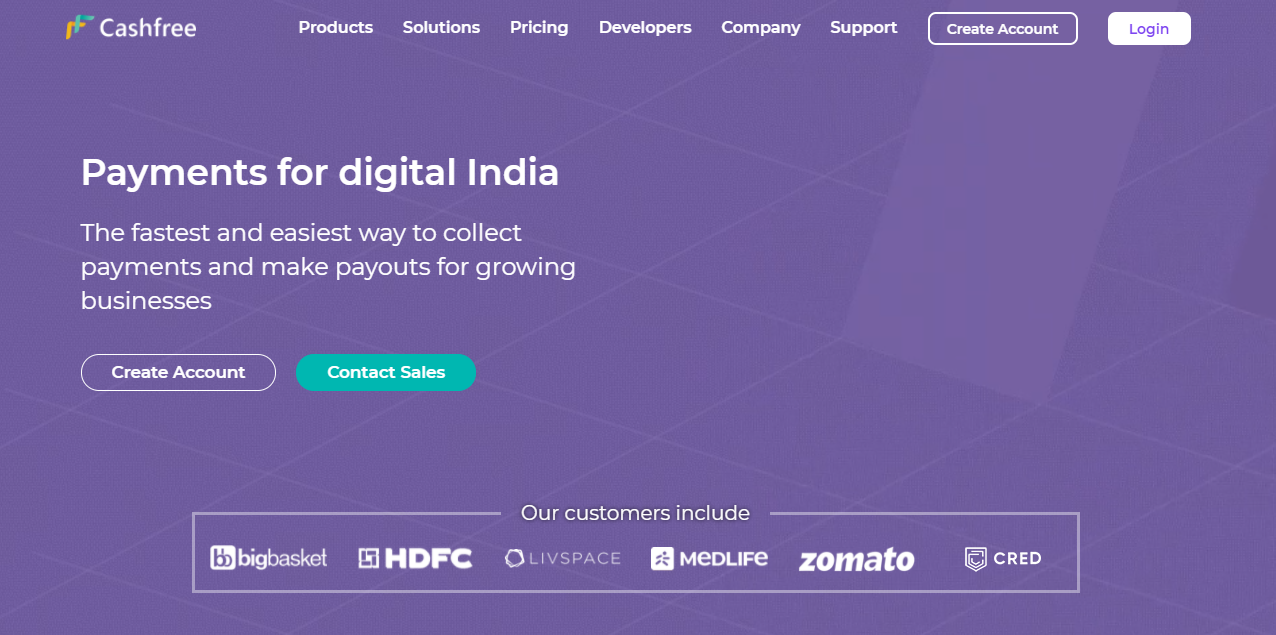 Crashfree is an Indian financial institution dedicated to payment and banking technology. Crashfree payment gateway integrates with most e-commerce platforms, including Shopify.
The company also supports all major payment methods such as PayPal, Amazon Pay, Google Pay, e-wallets.
Crashfre advantages:
Of all the payment companies registered in India, Cashfree provides its users with the largest number of payment methods, including Pay Later, Paytm, Cardless EMI;
Subscription payments;
Instant refunds;
Commission 3.5% + ₹ 7.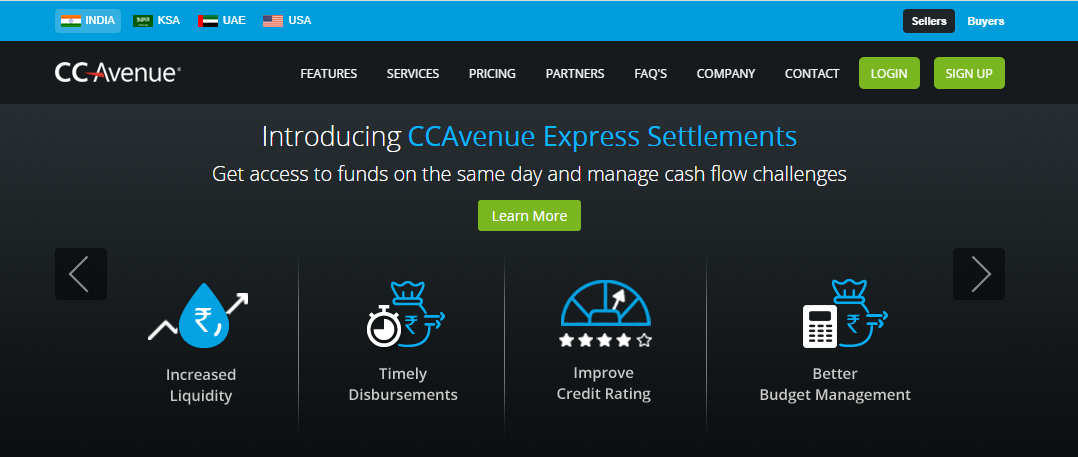 CCAvenue is an Indian payment service provider that operates as a master merchant. This method of operation allows merchants to receive various financial solutions, including payment gateways.
The company provides a secure connection between the merchant's website, issuing banks, acquiring banks, and payment gateway providers.
CCAvenue advantages:
The company provides services for businesses of any size;
SSL encryption ensures reliable security of all transmitted data. The company is also PCI DSS compliant;
More than 200 payment methods;
Multicurrency processing;
Mobile payments;
Commission from 2% per transaction.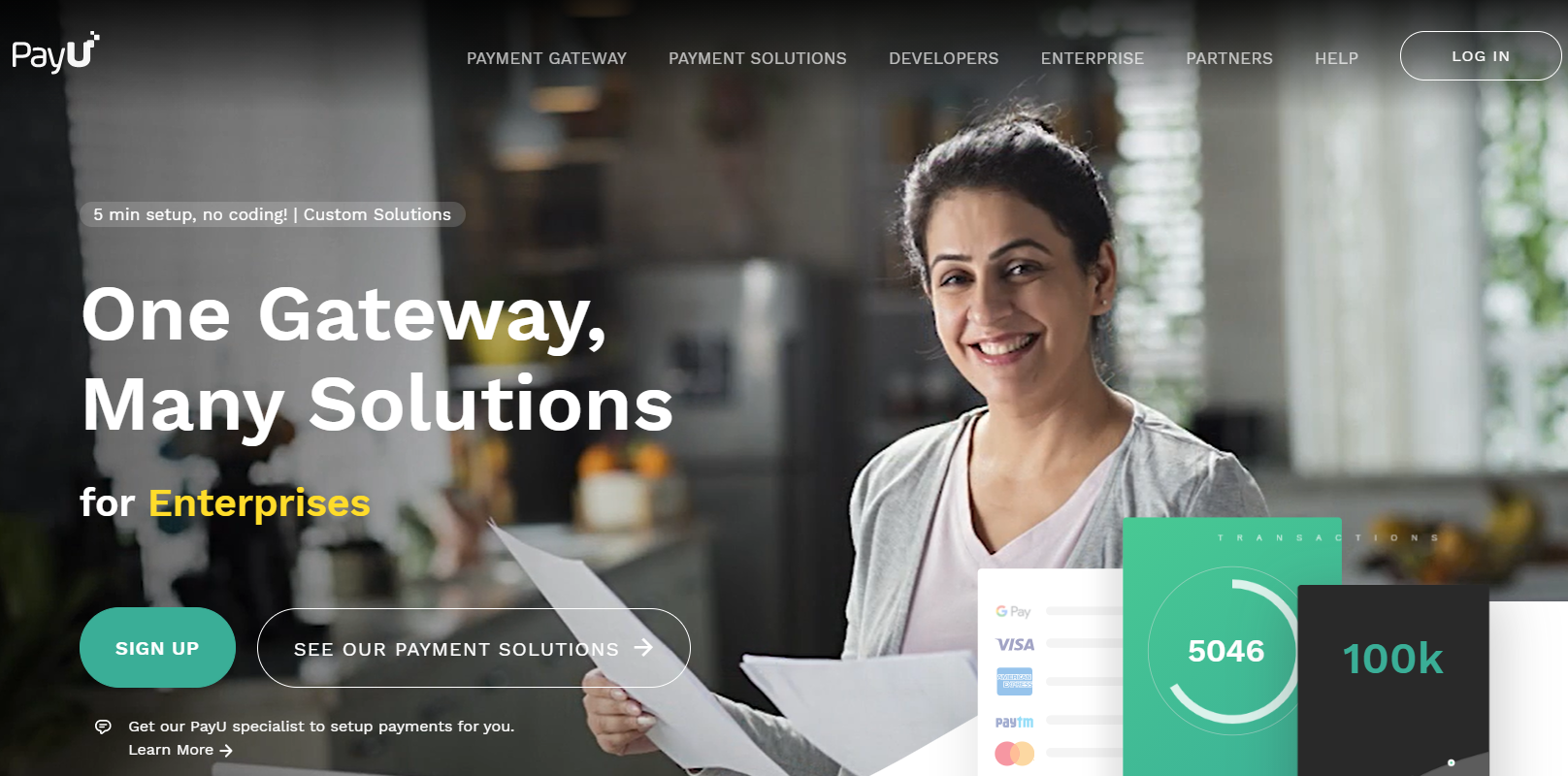 PayU is India's payment gateway that serves merchants both locally and worldwide. The company provides exclusive solutions to optimize the process of receiving and processing payments.
Benefits of PayU:
More than 100 payment methods used by most e-commerce platforms around the world;
Integration with a mobile device;
Tokenization of payment cards;
Availability of technical support;
Recurring payments;
Commission: 2% + Goods and Services Tax.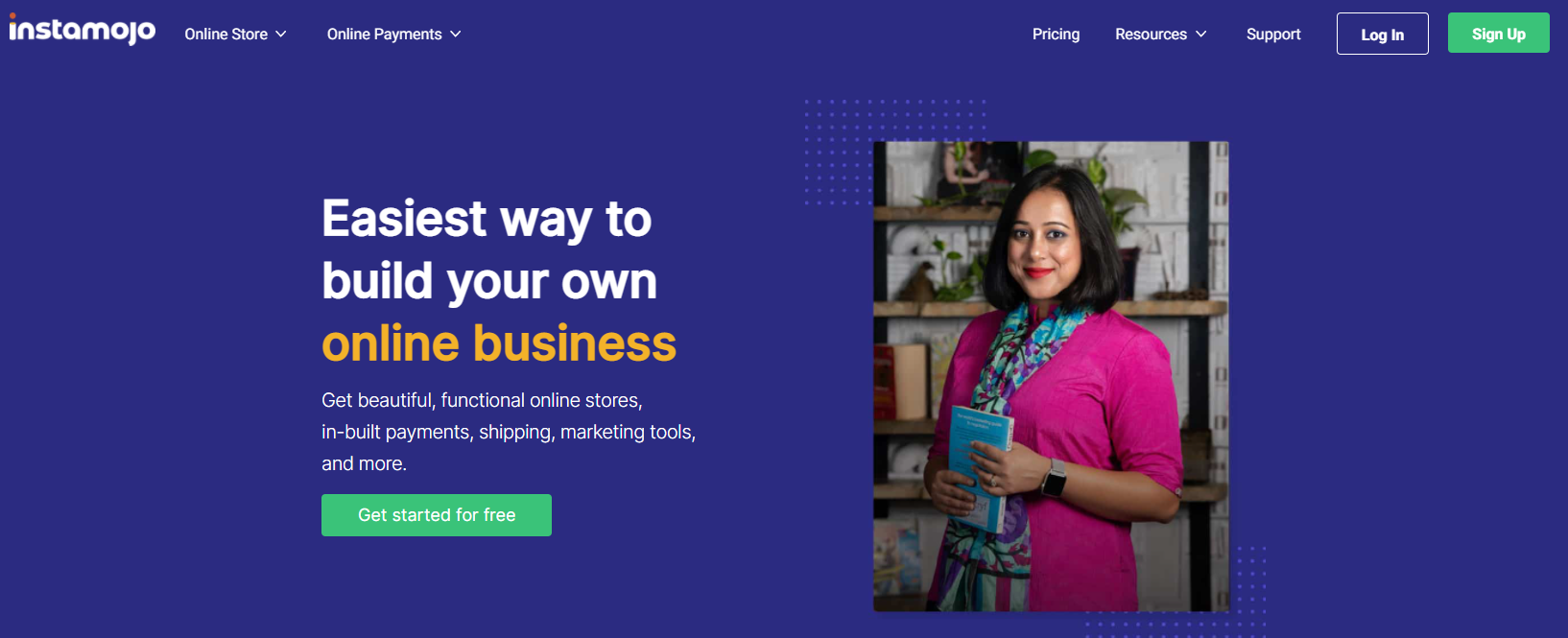 Instamojo is India's payment service provider and payment gateway. Along with CCAvenue, PayU, and others, it is one of India's most popular payment companies.
Instamojo advantages:
Fast website integration with no setup fees;
Integrated merchant account;
Payment links for quick organization of the process of payment methods on the site;
Built-in CRM system;
Support for various payment methods;
Commission 2% + ₹ 3 excluding Goods and Services Tax.
The bottom line
In this article, we got acquainted with such a concept as payment gateway, got familiarized with the criteria for choosing payment gateways, and considered the best payment gateways in India.
We at PayOp hope that this article will be helpful to many merchants in obtaining the optimal payment solution for the development of their online business.
If you are interested in international payment processing, you can familiarize yourself with the services we provide.
And if you have already chosen PayOp as a payment partner, register right now and get the maximum benefits for your business.