08.06.2021
Top 5 Indonesia Payment Gateways
Integrating a payment gateway, or the so-called Internet acquiring, to the website expands the possibilities for paying for goods and services.
The payment preferences of Indonesia users are different. They use both traditional payment cards and alternative methods equally widely: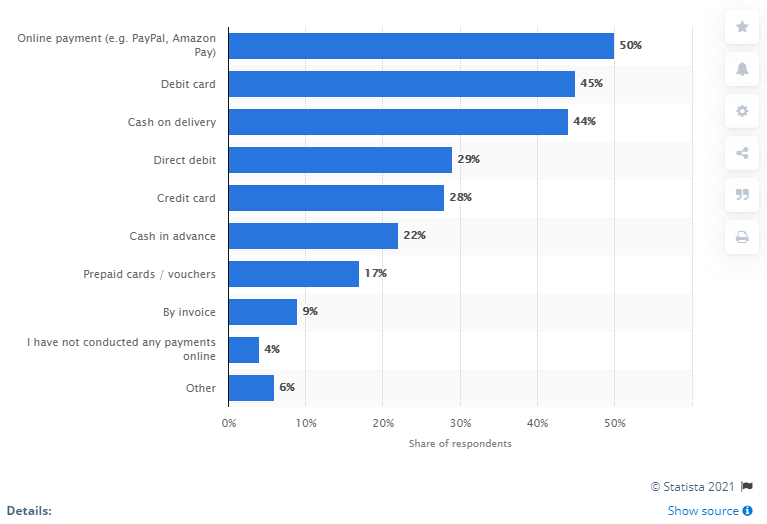 In connection with such diversification, it is essential to connect a payment gateway that can satisfy the needs of those customers who, for one reason or another, prefer non-standard solutions.
Choosing the best e-commerce payment solution provider in Indonesia is not an easy process.
Merchants are primarily concerned with making payments fast, smooth, and secure. It improves customer confidence in the site and increases conversion rates.
However, there are many more criteria for choosing a payment gateway. Let's take a look at some of the main ones.
Criteria for choosing the best payment gateway in Indonesia
Safety
If the processing company has a risk management team, ensure that your incoming transactions are carefully monitored for fraud. In addition, all payment providers are required to comply with PCI DSS requirements and have built-in suspicious activity detection software. PayOp, among other things, assists in the case of chargebacks.
Multicurrency and global coverage
Users are reluctant to transfer funds through unknown channels. It means that the payment gateway must provide those payment methods that users of a particular region prefer. In addition, the Indonesian payment gateway should offer the ability to make payments in the local currency. For this, there is a dynamic currency conversion function. It allows customers to pay for goods in suitable currency, which is converted in real-time at the rate of the issuing bank.
In Indonesia, only a few providers provide transactions in international currencies.
Commissions
The bulk of the fees that processors charge are transaction fees. Some payment processors in Indonesia, such as iPay88, are charging software installation and maintenance fees. In addition, depending on the organization's risk level, banks may charge different prices for chargebacks.
Let's take a look at how the transaction fee is formed.
Let's say your processor has a standard processing fee of 2.4% + $ 0.3 per transaction. This cost includes:
Interchange commissions. The major part of the price that the merchant sees goes exactly to cover these costs;
Assessment fees. If the transaction was provided using Visa, MasterCard, and Discover, then these organizations charge a flat commission as a percentage of the company's monthly turnover;
Commission of the processing organization.
Several factors affect the commission for interchange transfers. Let's consider them:
The payment network you are using. MasterCard, Visa, American Express, and Discover are the four payment giants that control most of the online transfers, and each of them has its own commission;
Card type. Depending on whether you use a credit or debit card, the fees will also vary;
Payment method: payment via POS terminal, mobile payment, card-not-present transactions, etc.
Business type. Each activity is assigned a specific code (MCC). It classifies merchants by the kind of activity. If your business has a higher level of risk, then the fees will be higher.
Technical support
Some payment gateways in Indonesia restrict customer support to communication via Tickets or email. If you want to find the best payment solution, check if the company provides phone support, if not 24/7, then at least during standard business hours so that you can quickly resolve any technical issues.
Integration process
Integration of the payment gateway to the site takes place in several possible ways. You can read about these methods in more detail here. Today we would like to dwell on the process of user verification itself. When a merchant registers an account on the payment processor's website, he needs to upload certain documents. Not all companies verify documents timely. Some may take several months to answer. It is not worth working with such organizations.
Since we have decided on the most obvious criteria for choosing the best payment gateway, consider the Indonesia payment gateway comparison.

Top 5 Indonesia Payment Gateways
Xendit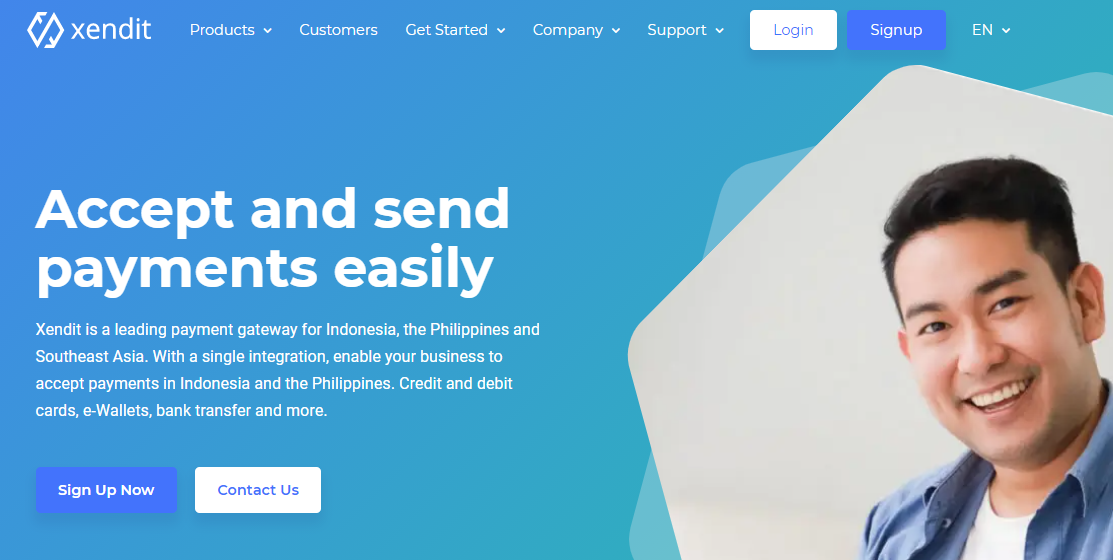 Xendit is one of the leading payment gateways in Indonesia, the Philippines and all of Southeast Asia. The company provides services to various types of businesses and offers easy payment gateway integration.
Commissions
Bank payments: Rp 4.500;
International cards: 2.90% + Rp 2.000;
Electronic wallets: 1.50%;
QR code payments: 0.70%;
Direct translation: 1.90%;
Postpay: 2.30%.
Payment methods
Bank transfers;
Cards. The company processes both local and international cards of the main payment brands: VISA, MasterCard, JCB, AMEX;
Cash. Ability to pay at over 12,000 stores across the country;
Electronic wallets. Payment through popular wallets in Indonesia;
QR code payments;
Direct transfers;
Pay later.
Safety
Xendit payment gateway has its own fraud detection system for better risk management. The system assesses the risk level of each transaction and proposes appropriate solutions, including payment blocking.
Currencies
The main settlement currencies of the company: Indonesian rupee (IDR), Philippine peso (PHP), US dollar (USD), Singapore dollar (SGD), Malaysian ringgit (MYR).
Tech support
You can contact company representatives via email, WhatsApp or Tickets.
Integration
Payment gateway integration takes place via API, payment link, or plugins.
PayOp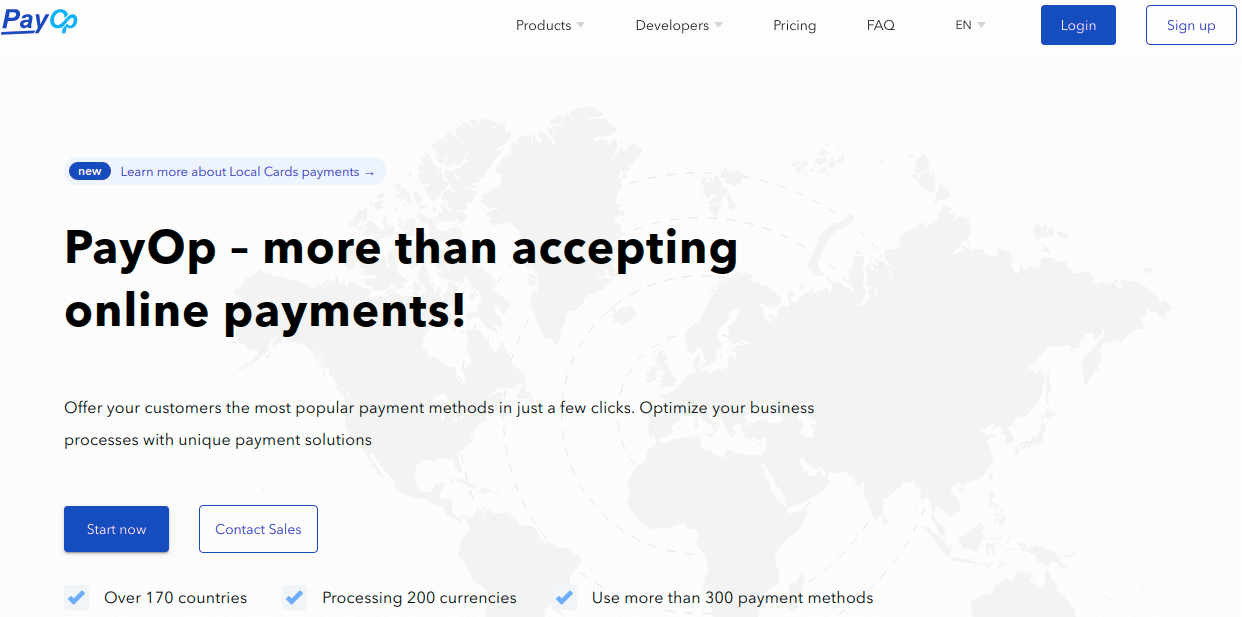 International payment processor PayOp provides financial solutions for merchants from over 170 countries. In addition, the company has one of the largest number of payment methods among payment providers (over 300).
Commissions
International cards: 2.4% + 0.3 $;
Local payment methods: there is a commission for a specific payment method. You can see the list of payment methods here.
Payment methods
Credit and debit cards;
Online banking;
Electronic wallets;
Prepaid vouchers;
Cash.
Safety
PayOp provides one of the best payment gateways in Indonesia in terms of security. Fraud prevention methods include suspicious transaction detection software, 3D-secure and PCI DSS level 1 compliance.
Currencies
The company has 7 major currencies and can process over 200 more. Thanks to Dynamic Conversion, currencies are converted instantly at the current bank rate.
Tech support
Communication with the support team takes place through the Ticket system in the merchant's personal account or by e-mail.
Integration
Integration is available in 3 methods:
API;
Hosted payment page;
Plugins.

iPay88

One of the leading payment service providers in Indonesia and Southeast Asia, IPay88 provides innovative solutions for accepting payments on the Internet.
Commissions
Online banking and e-wallets for business transfers: 2.60%;
Online banking and e-wallets for individual transfers: 3% or minimum RM0.60;
International credit cards: 2.70%;
Debit cards: 2.50%;
One-time registration fee: RM 488.
Payment methods
Credit and debit cards;
Online banking;
Mobile POS terminals;
Electronic wallets.
Safety
Indonesia's iPay88 payment gateway helps merchants fight online fraud by filtering out suspicious transactions. The solution allows you to block transactions from certain countries, or vice versa, to allow accepting payments from local issuers.
In addition, the merchant can set a limit on the maximum transaction amount and track the frequency of purchases.
Currencies
The company accepts 26 currencies, including MYR, AUD, EUR, SGD, USD, THB, RMB.
Tech support
You can contact the team through email, social networks and personal account.
Integration
The payment gateway is installed by adding a payment link to the site.
EsPay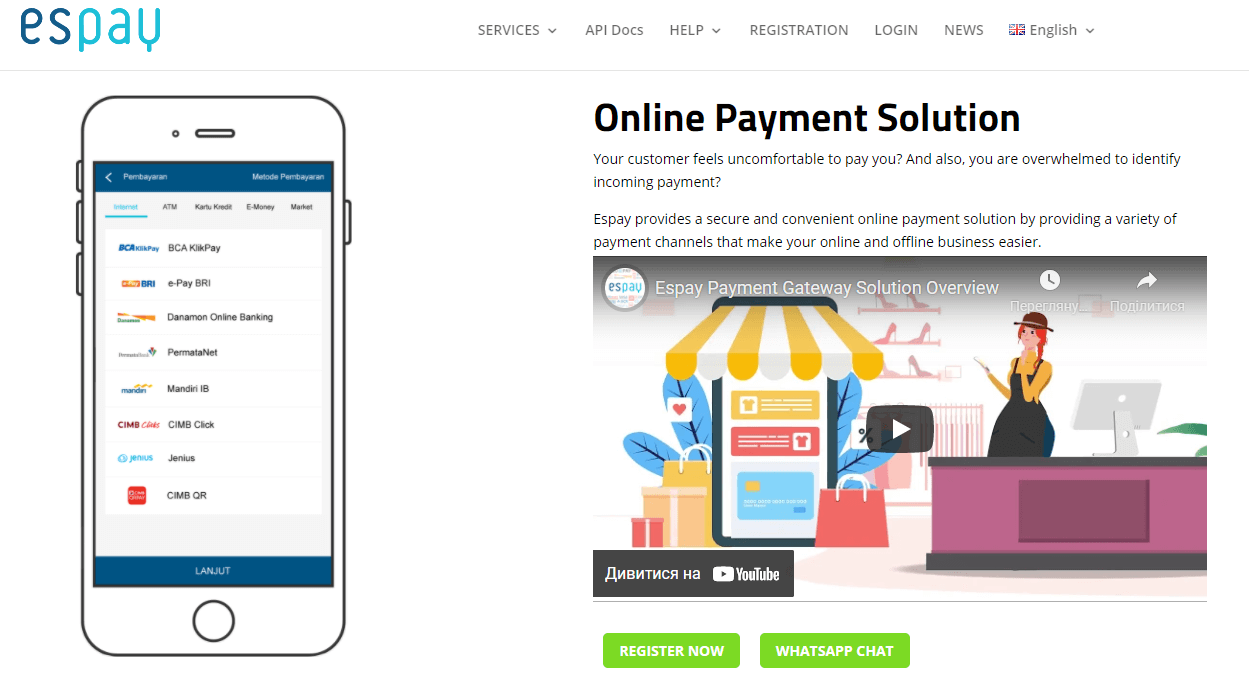 EsPay provides comprehensive payment solutions throughout Indonesia. The company is available in 18 countries and provides a payment gateway for individuals, online and offline businesses of all sizes.
Commissions
Installation and maintenance of EsPay payment gateway is free. The fee is charged only for a successful transaction.
There are no restrictions on the minimum transaction amount;
Credit card transactions: 2.2% MDR + Rp. 3000;
Virtual account payments: from Rp. 2000;
Electronic wallets: from 0.7% MDR.
Payment methods
Credit cards;
Direct transfers;
Electronic wallets;
ATM payments;
Online banking;
P2P transfers.
Safety
The company guarantees a high level of security of payment data. The system has fraud detection capabilities and is PCI DSS certified.
Currencies
EsPay works with two main currencies: IDR, USD.
Tech support
You can write to support through the feedback form, directly by email, or by phone.
Integration
Integration is possible through plugins and modules for popular e-commerce platforms (Magento, Prestashop, Woocommerce, Oscommerce, Opencart, Zencart and WHMCS), as well as API.
Midtrans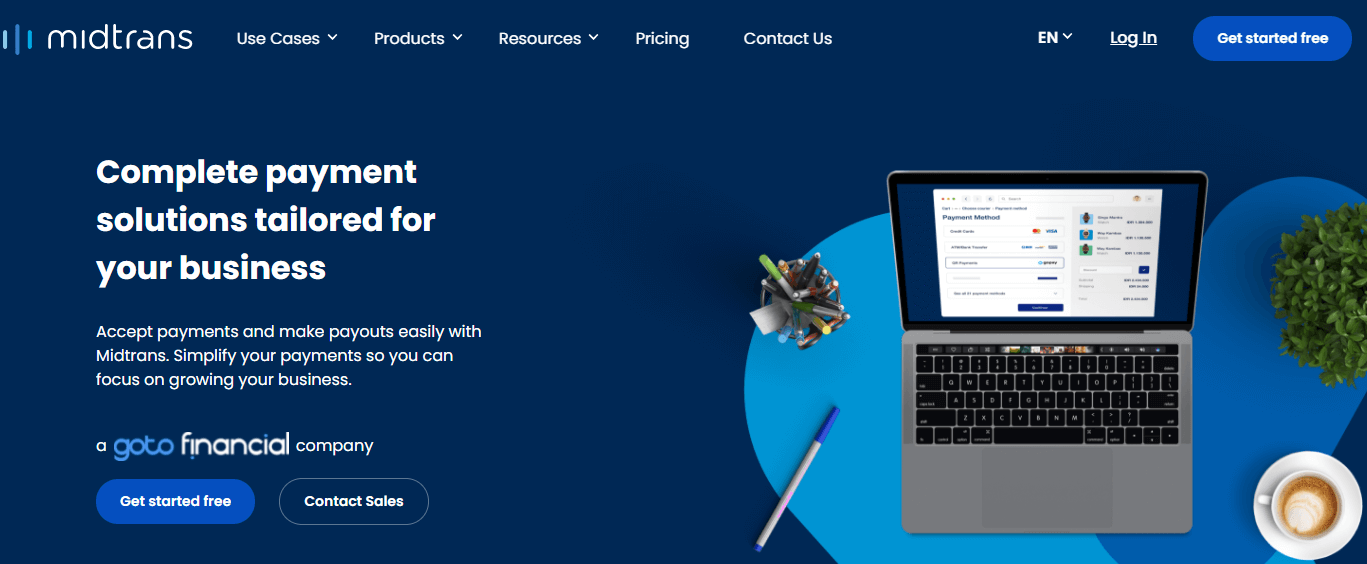 Accept and send payments hassle-free with Midtrans. Choose a convenient payment solution. The company works with both startups and large organizations.
Commissions
Bank transfers: IDR 4,000;
Electronic wallets: from 0.7%;
Credit Cards: 2.9% + IDR 2,000;
Domestic payments: IDR 5,000;
Direct transfers: IDR 5,000;
Contactless payments: 1.7%.
Payment methods
Bank transfers;
Electronic wallets;
Credit cards;
Domestic payments;
Direct transfers;
Contactless payments.
Safety
The Aegis system is responsible for the security of the Indonesian payment gateway Midtrans. This software is based on machine learning and complex algorithms.
The combination of these approaches allows you to build a system with optimal protection against fraud.
Currencies
The company uses the Indonesian rupee as its settlement currency, but merchants can accept other currencies as well.
Tech support
You can solve technical problems by writing an email or by finding the answer in the knowledge base.
Integration
Integration takes place via a payment link, via API, or via a built-in interface (SNAP).
Wrapping up
In this article, we got acquainted with the criteria for choosing a payment gateway and reviewed the top 5 payment gateways for businesses in Indonesia and beyond.
The above payment methods are some of the most popular, but there are many similar services. Some allow you to accept payments from anywhere, while others are only available in a few countries. So which payment system should you choose?
We recommend those that support a large number of payment methods (How to choose a payment method for a business?), Not only local but also international. It is essential because if your site cannot accept payment conveniently for the client, you will lose profit.